Lourenco was on a two-day official visit to Berlin, 11 months after he was picked to succeed Angola's president for 38 years, Jose Eduardo dos Santos.
"We're inviting German investors to work with the Angolan state to protect our coastline - either for the supply of war vessels, for our navy, or of other electronical means in order to control our vast maritime frontier, which is a part of the Gulf of Guinea used by pirates and terrorists," Lourenco said.
The visit is not Lourenco's first to Berlin and Angola's interest in acquiring German-built naval vessels is not new. In 2014, as defence minister, he signed a cooperation deal in Berlin and said Angola needed more war ships.
Three years before that, German Chancellor Angela Merkel had suggested the sale of such vessels to Angola during a visit to Luanda. That offer was so sharply criticized by the German opposition that it never materialized.
Merkel open for talks
On Wednesday, after meeting with Lourenco, Merkel said she remembered the old controversy but was still open to discussing defense matters with the southern African country.
"It might be that certain investments on the Angolan side materialize and then, naturally, we would gladly partner when it comes to such investment decisions by the Angolan navy," Merkel said.
Angola is Africa's second largest oil exporter after Nigeria. These exports are its main source of revenue. Faced with falling commodity prices and a $21.5 billion (€18.5 billion) debt to China, Angola is now trying to diversify. Germany has promised to help.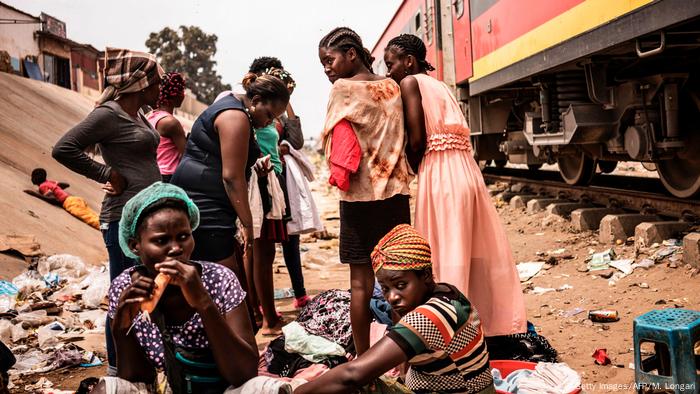 Angola was caught in a post-independence civil war from 1975 to 2002
Angolan journalist Emanuel Matondo, who is based in Germany, is a fierce critic of Luanda's defense spending.
"Angola spends too much money buying arms," Matondo told DW.
Angola's defense spending accounts for 21 percent of its entire budget for this year. It will spend 11.3 percent on education and 7.4 percent on the health.
Matondo would rather see the oil-rich country's money go towards comprehensive social and economic reforms, in order to alleviate the plight of millions of Angolans who live in poverty.
"Angola is experiencing an economic crisis. Why? Because money was stolen. So, first of all, the president should – with those reforms – create the conditions for investors to finance projects in Angola," he said.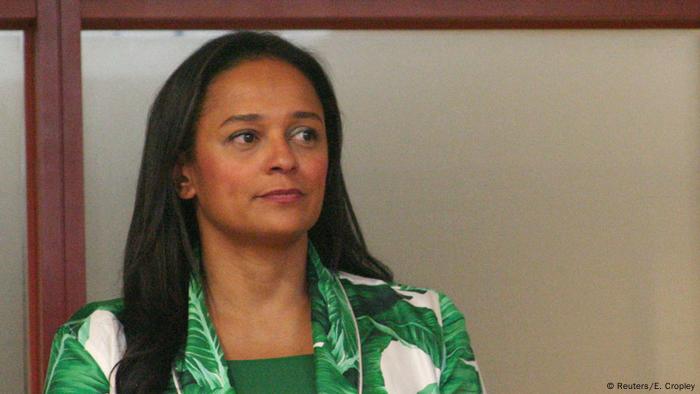 Africa's richest woman: Isabel dos Santos, daughter of Angola's former president Jose Eduardo dos Santos and former head of state oil company Sonangol, is being investigated for corruption.
Lourenco stirs things up
Aside from courting foreign investors, Lourenco he's been stirring things up since he assumed office. He has sacked top state officials with ties to dos Santos and vowed to fight corruption.
Before arriving in Berlin, Lourenco addressed the European Parliament – in Strasbourg, France and visited Brussels. The message he brought for Europeans was that it is worthwhile investing in Angola, and much easier now to register a company there.
"The government is making important reforms in the judicial and criminal investigation sectors in order to fight corruption and impunity in a more effective way, and ensuring business transparency," he said.
Currently only around 30 German companies have a representation in Angola. In 2017, bilateral trade turnover was under €299 million, provisional official statistics in Germany show.
Angola imports mainly cars, machines and technology. Germany buys Angolan oil and gas. Merkel has said there is much room for improving economic ties.
Business isn't easy
German companies are still struggling with a lack of foreign currency, due to lower oil profits. In general, the investment climate remains unfriendly. Angola ranks 175th out of 190 countries on the World Bank's Ease of Doing Business Index.
"We need to ensure the financing of large projects. Certainly corruption is still an issue. But the Angolan president also mentioned, that there's the need to fight strongly against corruption," said Heinz-Walter Grosse, who heads the Sub-Saharan Africa Initiative of German Business.
Political anthropologist Jon Schubert said that despite Lourenco's reforms, there's still a long way to go in Angola's "crusade" against corruption, and to achieve the investment-friendly environment the president is promising.
"It's extremely difficult to change, in a year, bad habits that have taken root for decades," said Schubert.