A Cairo court on Tuesday sentenced Morsi to 20 years for his role in attacks against people protesting his rule in 2012, convicting the former president and 14 associates of use of force, false imprisonment and torture against protesters.
Rights group Amnesty International called the verdict "a travesty of justice" and called for Morsi to be either retried, or released. The verdict is subject to appeal.
"This verdict shatters any remaining illusion of independence and impartiality in Egypt's criminal justice system," said Hassiba Hadj Saharaoui, deputy Middle East and North Africa director at Amnesty International. "Any semblance of a fair trial was jeopardized from the outset by a string of irregularities in the judicial process and his arbitrary, incommunicado detention."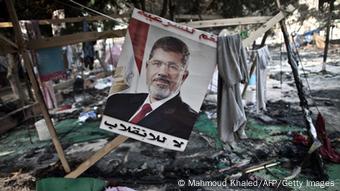 Morsi supporters occupied parts of Cairo in protest after the military takeover; the sites were forcibly cleared
Morsi's questioning took place without his lawyers present during his detention in an undisclosed location for four months following his ouster in July 2013. Amnesty also said Morsi's lawyers could only access case files days before the trial's start, and that only evidence of violence by Morsi supporters - and not of violence against them - was documented in court.
'We were expecting life in prison'
Lawyers for the victims, however, told reporters in Cairo that they had anticipated a sterner sentence against the ex-president with regards to the dropped incitement of murder charges.
"We were expecting them to be convicted of murder," Ramy Ghanem, a lawyer for an anti-Morsi protester wounded in the clashes, told the AFP news agency. "But the sentences are not bad. We were expecting life in prison, but then 20 years is not very different." An Egyptian life sentence runs for 25 years.
Hundreds of Morsi supporters have received lengthy jail terms or death sentences since former general Abdel-Fattah el-Sissi, now the president, removed Morsi from office and again outlawed the Muslim Brotherhood organization, which was illegal for decades under autocrat Hosni Mubarak.
Twenty-two Morsi supporters received death sentences on Monday. The Brotherhood's leader, Mohammed Badie, faces a death sentence but can appeal; all capital sentences in Egypt must go to an appeals court.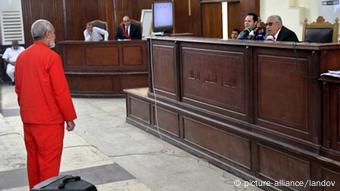 The Brotherhood's spiritual leader, Mohammed Badie, currently faces a death sentence
One of the group's figures not in detention, Arm Darrag, said from his exile in Istanbul in Turkey that the ruling was "a sad and terrible day in Egyptian history."
"They want to pass a life sentence for democracy in Egypt," Darrag said.
Sentence in the spotlight
Sameh Eid, a former Brotherhood member who researches Islamic movements, suggested that recent cases against Egyptian Islamists, coupled with Morsi's high public profile, might explain why the judge refrained from the most draconian possible punishments.
"Morsi's trial gripped international attention and a heavy sentence would have put the judiciary under a spotlight," Eid told the Associated Press. "Today, the judiciary seemed keen in preserving its image."
Though democratically-elected, Morsi was toppled after major public protests against his government, with some in Egypt appealing to the military to intervene. The 63-year-old famously interrupted the first day of his trial repeatedly with cries of "I am the president of the republic!" On Tuesday, according to an AFP courtroom correspondent, Morsi - dressed in a white prison uniform in a soundproof cage - raised his fists when the verdict was announced.
msh/rc (AFP, AP, dpa)