The number of Germans who have acquired weapons permits has risen considerably over the past two years. Having the requisite documentation allows people in the country to carry things like non-lethal gas pistols in public. In January 2016, just under 301,000 people had such a permit; in December 2017 there were over 557,000.
Read more: Amid controversy, Germany's police struggle to find recruits
Weapons retailers say that defensive blinding flashlights, stun guns and gas spray are selling so well they are having trouble keeping shelves stocked. Self-defense courses are also increasingly popular. Classes at Taekwondo clubs, fitness studios, and even municipal community centers are attracting more and more participants.
The perception of safety
A January 2017 public opinion poll showed that the majority of people in Germany are satisfied with their feeling of safety, but for roughly a quarter of the population, there is an increasing perception that their country is growing unsafe. The survey, conducted by the opinion research institute Infratest dimap, showed that 23 percent of Germans felt "fairly unsafe" or "very unsafe." Just under a quarter felt "very safe" and the majority — 51 percent — felt "fairly safe." Some 32 percent felt "less safe" than they did two years before. More than two-thirds stated that "not much had changed" for them.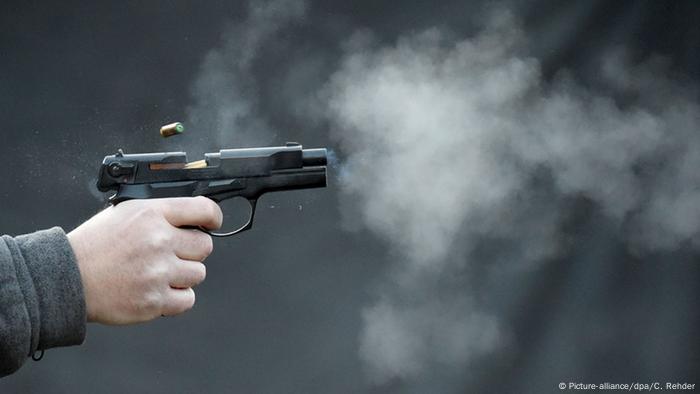 Gas pistols are designed to be non-lethal, but can be deadly when fired at close range
Dina Hummelsheim-Doss, a sociologist and criminology researcher at the Max Planck Institute for Foreign and International Criminal Law in Freiburg, suspects that most people have not noticed a change in the perception of safety in Germany. "When it comes to violence, only a small number of Germans feel threatened in everyday life," she told DW. "However, there have been almost no scientific studies. One of the first studies, however, indicates that the feeling of being unsafe in Germany has risen slightly."
Nevertheless, the Infratest dimap survey indicates that many citizens had already taken a number of precautions. One-third of the poll's respondents said they avoided certain streets or squares in the evening. Nearly two-thirds said they had a mace or a weapon with them to protect themselves.
Media plays a role
Interest in acquiring small arms has grown at the same time Germany began taking in more refugees. When asked by Infratest dimap which groups of people they feared the most, almost a third of respondents said "foreigners and refugees." The second most-feared group, "neo-Nazis and right-wing extremists," lagged behind at 13 percent.
Read more: German media 'distort' refugee crime rates, study finds
Nevertheless, Hummelsheim-Doss stresses that it is still unclear what impact immigration will have on people's sense of security. "These developments are mostly conveyed in the media," she said. "Usually, the public learns about them in the media without being able to judge for themselves what problems Germany faces as whole. But of course it cannot be ruled out that social developments — like migration — lead to fears. Whether this is justified, however, is an entirely different matter."
More weapons, less safety?
So does owning weapons guarantee a higher level of safety? According to criminologist and lawyer Arthur Kreuzer, the answer is "no."
"In extreme psychological situations, many people resort to using guns and shoot themselves or others," he said at a lecture at the German Police University in July 2017. "If guns are not at hand, some spontaneous suicides or accidental killings can be avoided."
Read more: Study finds only better integration will reduce migrant crime rate
Moreover, he added, increased weapons ownership has poisoned the climate of coexistence. "A mentality of weapons is spreading, mistrust and fears are growing, faith in public security is waning and the state's sole authority to impose order," said Kreuzer.
That is why Hummelsheim-Doss believes it is particularly important to know the reasons why Germans feel unsafe. They are mostly related to crime itself. "We know that fear of crime is always very strongly linked to other fears," she said. "Crime is always a projection of social problems. That is why crime policies should focus more on the social problems of the population."