On Wednesday (17.07.2013), Alexei Navalny was convicted of embezzlement and sentenced to five years in prison by a Russian court in a case Navalny's supporters say is meant to silence the Kremlin's biggest critic.
Irony was always his trademark - and he hasn't lost any of it.
Before Russian authorities led him out of the courtroom in handcuffs, Navalny addressed his supporters in a last Twitter message: "Okay, don't miss me. More important - don't be idle."
As Russia's best-known blogger and opposition politician, Navalny had found himself on trial since April 2013 in Kirov, a city 900 kilometers to the northeast of Moscow.
It was in Kirov, a central Russian city of just under half a million people, that Navalny was first accused of having cheated a state-run logging company called Kirovles out of 400,000 euros ($519,000). The 37-year-old denied this accusation and the others, and spoke of a politically motivated trial.
A leading critic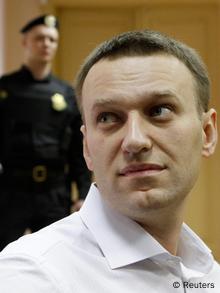 No laughing matter: Prosecuters sought six years, Navalny was sentenced to five in Russian prison
As both a lawyer and blogger, Navalny is considered a leading critic of the Kremlin. He was the first to call United Russia - the ruling centrist party of Russian President Vladmir Putin and Prime Minister Dmitry Medvedev - the "party of crooks and thieves." It was also Navalny who called upon Russians to document irregularities in the 2011 parliamentary election. Around ten thousand Russians heeded his call.
"Tall," "blonde" and "striking" is how American journalist Julia Loffe, a Moscow correspondent for the New Yorker and Foreign Policy magazines, describes him.
"He's the only politician in Russian today with potential," she told DW.
Navalny, she said, "is from the middle-class - and understands their worries."
Part-time politician
But Navalny is not a "politician" in the classic sense. He is backed by no political party in Russia and studied law and asset markets in Moscow. Thereafter, he spent time at Yale University in the United States.
Between 2000 and 2007 he became involved with Russia's social-liberal Yabloko party, which aimed for enhanced integration with the West and membership in the European Union. Due to controversial statements made by Navalny, however, he was kicked out of that party.
Generally, Navalny considers himself a "reasonable nationalist." Until just a few years ago, he even took part in the "Russian Marches" - annual mass demonstrations in major Russian cities organized by strongly nationalist and anti-immigration political groups. Navalny later distanced himself from those actions, yet simultaneously said he wanted a highly populous Russian state "not to make taboo" the issue of immigration.
Navalny's conviction, says Loffe, is shared by a segment of Russia's middle class. She further believes that his participation in the marches was a "cynical maneuver" to garner more support from the Russian populace at large.
Jens Siegert of the Moscow branch of the Heinrich Böll Stiftung, a German political foundation, shares that criticism: "I think Navalny was playing with fire there," Siegert told DW.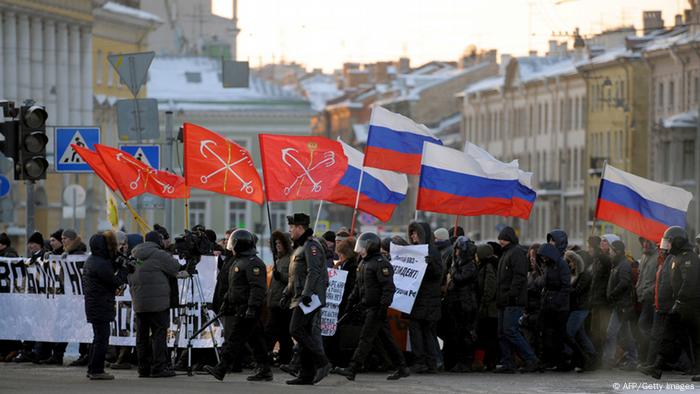 Without Navalny, some worry the Russian opposition movement will lose its direction
Blogger for president?
Yet what truly elevated Navalny to the level of national politics was the Internet. His blog on Russia's LiveJournal is read by hundreds of thousands of people. He also runs other Internet sites where a network of Russian citizens tries to expose the corruption and internal machinations of state-run companies. A number of United Russia parliamentarians have resigned as a result of revelations made on Navalny's site.
By autumn 2012, Navalny had received the highest number of votes to head the opposition's coordination council, which views itself as the leadership of the opposition protest movement. Navalny truly took on that role at demonstrations for democracy just a few months later. He organized protests and was arrested repeatedly - but only temporarily.
Finally, and just shortly before the beginning of the courtroom trial in Kirov, Navalny made clear that his ambitions were no less than for his country's highest office. "I want to become president and change the way we live in this country," he said.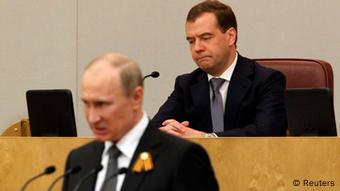 President Putin and Prime Minister Medvedev are part of United Russia and swapped positions in 2012
Observers, however, believe Navalny was simply trying to draw more attention to his case. "Passing judgment on a presidential candidate is something different from if it's a normal opposition politician," said Jens Siegert of the Henrich Böll Stiftung.
One day before the verdict was announced, Navalny had registered as a candidate in Moscow's September mayoral elections.But now, a five-year sentence means he will not be able to run for Moscow mayor in September, nor in the next presidential election in 2018.
As to whether the activist blogger ever truly stood a chance as Russia's next president remains to be seen. Surveys indicated anywhere from 13 to 19 percent of Russians in support of a Navalny presidency. Now his path to the Kremlin is barred.