Protesters drove a tractor over a sign stating, "15 years of CDU agricultural policy leave traces: farmyard closures, price dumping, climate crisis." That tractor was one of 30 that took part in a demonstration in Berlin on Saturday against the agriculture policy maintained by Chancellor Angela Merkel's governing Christian Democratic Union (CDU) over the last decade and a half.
In addition to protesting against Germany's current farm and food policies, they said they also wanted to get voters' attention ahead of six state elections and a federal parliamentary vote coming up in 2021.
From the CDU party headquarters, protesters then headed to the Chancellery to an outdoor display of 10,000 footprints from other reformists who had stayed home because of coronavirus safeguards.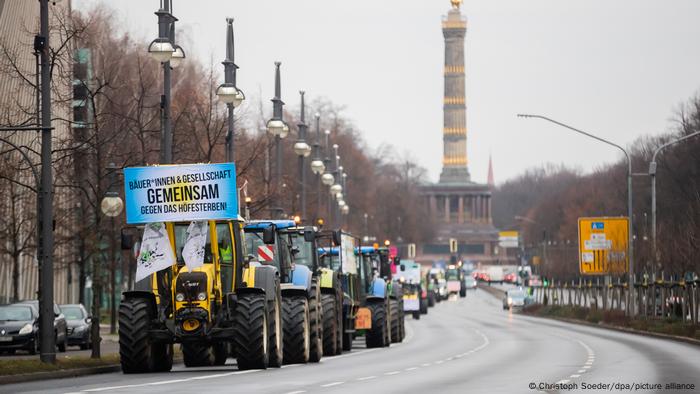 Protest tractors heading to the German Chancellery
"Cheap food is a blind alley that doesn't benefit the rural economy nor consumers," said Saskia Richartz, spokesperson for a 60-group civil society alliance, including biodynamic farmers, environmentalists and charities that seek sweeping agricultural policy change.
Under the motto "We are fed up" (Wir haben es satt), the alliance, along with the EU-level Good Food Good Farming campaign, has long demanded reduced animal numbers in farm stalls, less meat consumption, and a halt to genetically modified foodstuffs and the use of pesticides blamed for insect depletion.
Protests are 'polarizing'
Reacting to the protest, Food and Agriculture Minister Julia Klöckner accused the alliance of directing polarizing, "all or nothing" criticism at a farming sector that had been modernized through "research" and EU farm policies being amended.
Klöckner said it was self-evident that agriculture would have to become sustainable. In August, she hosted EU farm ministers in Koblenz, drawing protests by Good Food Good Farming advocates.
Multiple elections pending
Saturday's protest precedes next week's online version of Berlin's traditional Green Week trade fair. Last year the event drew 27,000 protesters.
Protesters were also hoping to draw the voters' attention to agriculture policy this year, which will see several German six regional assembly elections as well as a federal parliamentary general election in September.
The first two state elections are set for March 14 in Rhineland Palatinate and Baden-Württemberg, two southwestern regions with extensive farming, forestry and winemaking. Klöckner is a former Palatinate wine promoter.
ipj/sms (KNA, epd, dpa, AFP)