Members of the far-right Alternative for Germany (AfD) selected Jörg Meuthen to lead their party's charge in European elections. In an interview with DW, Meuthen explained what he hopes to achieve ahead of and after the May poll.
DW: What use does the Alternative for Germany party have for the European Union at all?
Jörg Meuthen: For supranational tasks. When we talk about wanting sensible border protection, then it makes sense to protect the external borders of the bloc. There are supranational tasks concerning environmental policy and international trade. Take the internal market — it is an achievement because it is a win-win situation for everyone involved. Unlike what's often said about us, we do not damn the entire European Union lock, stock and barrel. There are also achievements.
You want to create a parliamentary group in the European Parliament. Many say that will be a difficult task. How will you bring together different parties from different countries? What is the common denominator?
Patience, lots of meetings and building trust. We have to be in contact with parties from several nations. That has been going on for some time and there have been many good talks, and we will talk to other countries soon. What everyone is asking, of course, is how we will bring everyone together. Building trust is what has to be done and that happens at the personal level. And you have to be willing to compromise.
US President Donald Trump's former adviser Steve Bannon has been touring Europe with a similar goal of bringing together populist parties. But he has avoided Germany. How are the AfD's ties to Bannon?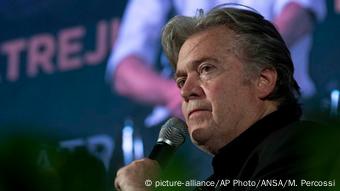 Bannon says he intends to help populists in Europe get elected
I don't know if Mr. Bannon is avoiding Germany. As far as I know, he has spoken to [AfD politicians] Alice Weidel and Beatrix von Storch. It's not that long ago that he called me. But I do not think that Mr. Bannon will play a significant role in creating a parliamentary group or bringing together parties that others would call right-wing populists. We Europeans can do that fine on our own. If he starts a foundation that runs like a think tank, then that could be of interest to us as a place to stay in touch. But Mr. Bannon certainly will not play a role in the European elections.
What three issues do you want to address in the European election?
Getting this migration chaos under control is absolutely the most important issue.
Second: introducing more democracy. We are the only party to advocate for direct democracy. That means a real policy of decentralization and subsidiarity — and in a serious way, not just as a catchword in speeches. That means taking away the unnecessary things from Brussels. Eliminating the EU's remoteness from citizens by putting things where they belong. We call it Swissification.
As for the third issue, there will likely be a chance to bring attention to the problems of a common currency, which is why the AfD was started. An economic boom is coming to an end. I assume that in six months, or a year at the latest, there will be a clear trend toward negative development. And then the drawbacks will be much clearer, as they already are for the experts. We have to do something about that.
Jörg Meuthen is co-leader of the Alternative for Germany party. He was elected the far-right party's lead candidate for the European elections to be held in May 2019.
Each evening at 1830 UTC, DW's editors send out a selection of the day's hard news and quality feature journalism. You can sign up to receive it directly here.