Acting FBI Director Andrew McCabe's testified before a Senate committee Thursday.
McCabe and other intelligence chiefs were questioned by the committee in a bid to get to the bottom of Comey's surprise ousting Tuesday.
The White House had justified the move, stating that the former director had lost the confidence of rank and file within the bureau.
Read more: The Comey affair: What happens now that Trump fired the head of the FBI?
However, McCabe contradicted the White House, calling its assertions "not accurate."
"Director Comey enjoyed broad support within the FBI and still does to this day. The vast majority of FBI staff enjoyed a deep, positive connection to director Comey."
The dismissal leaves the fate of the FBI's probe into Russia's meddling in last year's presidential election and possible collusion with the Trump campaign team deeply uncertain.
McCabe said the Russia investigation remained "highly significant" and that the FBI would not tolerate any White House interference in the matter, adding that he would not update the Trump administration on the status of the investigation.
"You cannot stop the men and women of the FBI from doing the right thing," he declared.
That investigation may have deepened Wednesday after Moscow released photos of a closed-door meeting between Trump and Russian Foreign Minister Sergei Lavrov. Scheduled to only meet with US Secretary of State Rex Tillerson, Lavrov's ad-hoc meeting with the president compounded the perception among critics that the Kremlin had scored a diplomatic coup — just months after being hit with sanctions by the previous administration under President Barack Obama.
White House officials reportedly admitted that they had not been told the images would be made public. The deputy press secretary, Sarah Huckabee Sanders, however, tried to put on a brave face before the media, lambasting reporters for supposedly attacking Trump for "doing his job."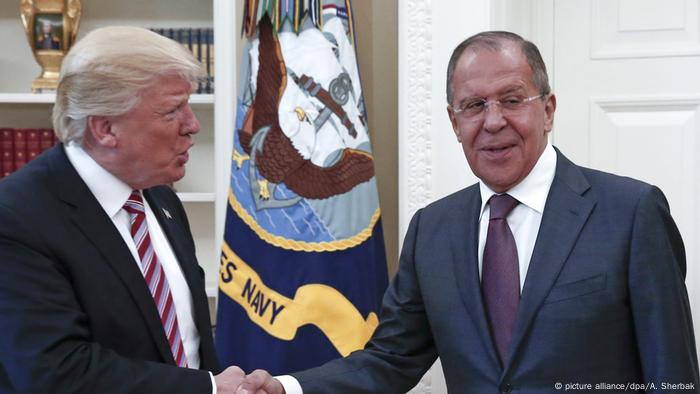 Moscow's decision to publish photographs of Sergei Lavrov's ad-hoc meeting President Trump reportedly left White House staff fuming.
Trump's conversation with Comey
In an interview with US news network NBC on Thursday, Trump also appeared to contradict the White House's earlier statement that he had asked Attorney General Jeff Sessions and Deputy General Secretary Rod Rosenstein for their opinions on Comey and acted on those recommendations.
The president stressed that he had decided to fire Comey himself, irrespective of Sessions' or Rosenstein's recommendation, because the former FBI Director was a "showboat" who had brought the bureau into "turmoil."
Trump reiterated to NBC that Comey had said to him on three occasions that he was not under investigation as part of the FBI's probe into Russia's election meddling, an apparent attempt to quash suspicions that the bureau chief was fired for launching an inquest into the Trump campaign. The president had stated the same thing in his termination letter to Comey.
Read more: Senate calls Flynn to testify as split widens over Trump-Russia probe
"I know that I'm not under investigation," Trump said. "Me personally. I'm not talking about campaigns or anything else. I am not under investigation."
Asked by the Senate committee whether Comey had assured Trump that he was not being investigated, McCabe said he could not comment on an ongoing investigation. However, he stated that it was not typical to tell a person whether or not he or she is the target of an investigation.
Deputy Press Secretary Sanders, however, told reporters that she believed it was not inappropriate or legally unsound for Trump to ask Comey whether he was under investigation.
The Russian connection
Trump told NBC News in the same interview that he had given a letter to Republican Senator Lindsey Graham saying he has no investments in Russia.
Trump said he sold a house many years ago to a Russian and held the Miss Universe Pageant in Moscow a number of years ago, but is now not involved in Russia, adding he has not accepted any loans from Russia or have property in Russia. "I am not involved in Russia. No loans. No nothing," he said.
During the presidential campaign Trump downplayed his business ties with Russia and since his inauguration has said he owns nothing in Russia. However, members of the Russian elite have invested in Trump buildings, he said.
A Reuters review in March found that at least 63 individuals with Russian passports or addresses have bought at least $98.4 million (105 million euros) worth of property in seven Trump-branded luxury towers in Florida.
The newspaper "USA Today," meanwhile, reported in March that Trump, his company and partners "repeatedly turned to wealthy Russians and oligarchs from former Soviet republics - several allegedly connected to organized crime."
In 2013, after Trump addressed potential investors in Moscow, he told "Real Estate Weekly" about his access to Russia's rich and powerful. "I have a great relationship with many Russians, and almost all of the oligarchs were in the room," Trump said.
Five years earlier, Trump's son Donald Trump Jr. told Russian media while in Moscow that "Russians make up a pretty disproportionate cross section of a lot of our assets" in places like Dubai and Trump SoHo and elsewhere in New York.
Comey acknowledged at a congressional hearing into Russian interference in the US election on March 20 that many wealthy Russians may have close ties to the Kremlin and may be acting on its behalf.
dm/kms/jbh (AP, Reuters, AFP)