"While I greatly appreciate you informing me, on three separate occasions, that I am not under investigation, I nevertheless concur with the judgment of the Department of Justice that you are not able to effectively lead the bureau," Trump said in a letter to Comey on Tuesday.
The firing reportedly follows the recommendation of Attorney General Jeff Sessions and Deputy Attorney General Rod Rosenstein.
The White House released a memo by Rosenstein providing the administration's justification for firing Comey: "I cannot defend the Director's handling of the conclusion of the investigation of Secretary Clinton's emails, and I do not understand his refusal to accept the nearly universal judgment that he was mistaken," Rosenstein wrote.
- Shock, criticism, comedy greet Trump's firing of Comey
- Russia has 'compromising info' on Trump
- Comey defends pre-election Clinton email decision
It is necessary to restore "public trust and confidence" in the US's top law enforcement agency following several tumultuous months, a White House statement reads.
"The FBI is one of our nation's most cherished and respected institutions, and today will mark a new beginning for our crown jewel of law enforcement," it goes on.
The White House said the search for a new FBI director would begin immediately.
Comey, 56, was nominated by President Barack Obama for the FBI post in 2013 to a 10-year term. Comey has spent three decades in law enforcement.
It is only the second time in the nation's history that a president has fired the head of the FBI. The first time occurred in 1993, when then-President Bill Clinton dismissed William Sessions over alleged ethical lapses.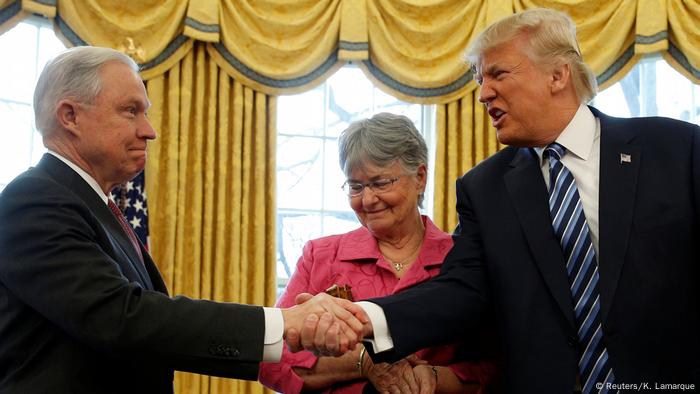 US President Donald Trump congratulates Jeff Sessions after he was sworn in as Attorney General on February 9, 2017
Comey embarrassed over Clinton probe
Comey testified last week before the Senate Judiciary Committee in defense of his handling of a probe into the hacked emails of Democratic presidential candidate Hillary Clinton during last year's presidential election.
Tuesday's announcement follows the FBI correcting a sentence in Comey's sworn testimony on Capitol Hill last week.
Comey told lawmakers that Huma Abedin, a senior aide to Hillary Clinton, had sent "hundreds and thousands" of emails to her husband's laptop, including some with classified information.
Earlier on Tuesday, the FBI said in a two-page letter to the Senate Judiciary Committee that only a small number of the emails found on the laptop had been forwarded there while most had simply been backed up from electronic devices. Most of the email chains on the laptop containing classified information were not the result of forwarding, the FBI said.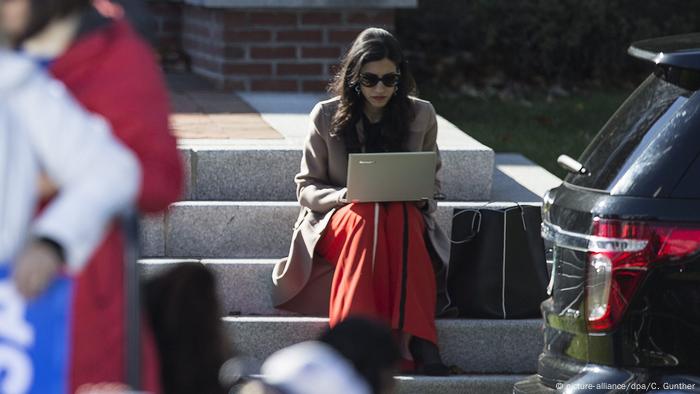 Clinton's longtime aide and campaign vice chair Huma Abedin, shown working on her laptop during a campaign rally
"Nauseous"
Last Wednesday Comey defended his decision to reopen a probe into Hillary Clinton's emails only days before the November election, but said it made him feel "nauseous" to think it could have swayed the outcome of the vote.
Comey informed Congress 11 days before the November election that the FBI had reopened an investigation into Clinton's use of a private server during her time as secretary of state only months after the country's top law enforcement body had closed the case and recommended no criminal charges.
Comey also broke with tradition by discussing the case and chastising the Clinton's "careless" handling of classified information.
Democrats have charged that Comey's decision to reopen the probe may have been politically motivated and helped swing the election in Trump's favor.
Comey had told the Senate committee that the FBI reopened the probe after agents discovered additional classified emails forwarded by Clinton aide Huma Abedin to her husband, who was not authorized to view them.
Comey said he felt he had to inform Congress at the time, after which news of the reopened probe was leaked to the press, because he had previously testified under oath that the investigation had been closed.
Clinton and Trump blame Comey
In one of her first major remarks since the election, Clinton said on Tuesday that Comey's actions, misogyny, Russian interference and a Wikileaks dump of Democratic Party communications emails were in part responsible for her defeat in the election.
Last Tuesday Trump attacked Clinton via Twitter, saying "Comey was the best thing that ever happened to Hillary Clinton in that he gave her a free pass for many bad deeds" and "The phony Trump/Russia story was an excuse used by the Democrats as justification for losing the election. Perhaps Trump just ran a great campaign?"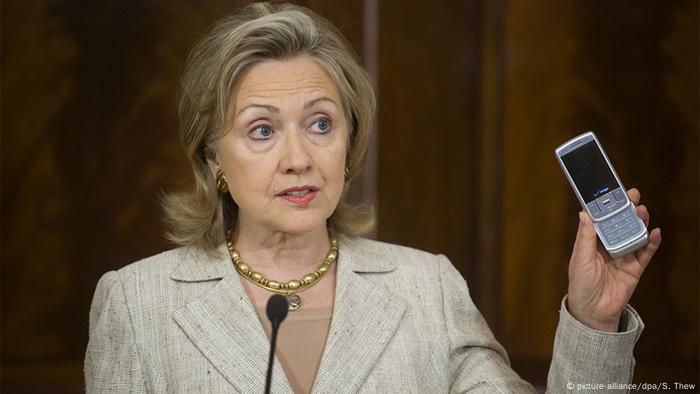 Then-US Secretary of State Hillary Clinton in 2010
jbh/kl (dpa, AFP, Reuters)