President Trump is known for making surprising declarations, but his sudden firing of FBI director James Comey on Tuesday amid the bureau's investigations into Trump campaign ties to Russia unleashed a bipartisan firestorm.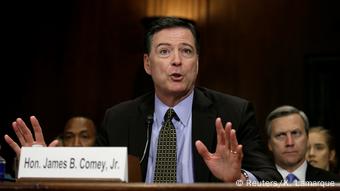 President Trump informed Comey via letter that he would no longer head the FBI
Top Democratic senator Chuck Schumer said he had told Trump it was a "big mistake" to fire Comey during the probe into Russia's alleged interference in last year's election.
"Earlier this afternoon, President Trump called me and informed me he was firing Director Comey. I told the president, 'Mr President, with all due respect, you are making a big mistake,'" Senate Minority Leader Schumer told reporters.
- The sacking of James Comey: How it came about
Calls for an independent prosecutor
Schumer and several of his Democratic colleagues are calling for an independent prosecutor or commission to investigate claims of Russian interference, as well as possible collusion between Trump's campaign team and Russian officials.
In a live statement, Schumer also said it was "troubling" that Attorney General Jeff Sessions was involved in the decision to dismiss Comey, having previously recused himself from the Russia investigation.
His remarks were echoed on Twitter by Tim Kaine, Democratic Senator for Virginia and Hillary Clinton's presidential running mate.
Republican voices
Among Republicans, Evan McMullin, a former CIA operative and Republican candidate who ran against Trump in the primaries, warned that Comey's dismissal could compromise the ongoing probe.
Arizona Senator John McCain said he supported calls for a special committee to take over the investigation into Russia's alleged interference of last year's election campaign.
Republican Senator from Michigan Justin Amash echoed McCain's sentiments and highlighted a "bizarre" section of Trump's dismissal letter where the President emphasized he was not under investigation.
Jeff Flake, Republican from Arizona, voiced pure perplexity at Comey's removal.
The investigation goes on
However, worries of how the firing would affect the ongoing investigation did not extend to all political quarters.
Democratic senator from New Mexico Martin Heinrich criticized Trump's decision, comparing it to Nixon's firing of a special prosecutor tasked with investigating the Watergate break-in, but suggested the investigation would not be derailed because of Comey's departure.
The White House said the search for a new FBI director would start immediately.
US Senator Dianne Feinstein, the senior Democrat on the Senate Judiciary Committee, said the FBI director who replaces Comey "must be strong and independent."
Senator Ron Wyden, Democrat of Oregon and a member of the Senate Intelligence Committee, called on Comey to come clean about the status of the Russia/Trump investigation now that he had been removed from office.
International reactions
Even former CIA employee and surveillance whistleblower Edward Snowden, who earlier pointed out that Comey has for years sought to prosecute him, also criticized the move, decrying political interference in the FBI's work.
Not everyone responded in a serious vein, however.
German political comedian Jan Böhmernmann fired off a comical Tweet informing German speakers of the event they had missed in the night.