As Democrats demand an investigation into the president's firing of FBI Director James Comey, US media reported on Wednesday that, days before his dismissal, the US's top detective had requested additional funds to investigate Russia's possible meddling in the 2016 election - and any possible links to Donald Trump's campaign.
The Justice Department denies that Comey, a 56-year-old with three decades of law enforcement experience, asked for more resources.
Comey's departure leaves the FBI's investigation of Russian election meddling and Moscow's alleged ties to Trump's campaign in the hands of Andrew McCabe, who was appointed as Comey's deputy in February 2016 and is now acting director until a new FBI chief is named by Trump and confirmed by the Senate.
The Justice Department's handling of the case has fallen to Deputy Attorney General Rod Rosenstein. This after Attorney General Jeff Sessions recused himself from any investigations of the 2016 elections.
On Tuesday, Rosenstein recommended that Trump dismiss Comey, saying the director had damaged the FBI's integrity during his investigation into a private email account that Trump's 2016 opponent, Hillary Clinton, used as secretary of state.
Comey magnanimous
White House spokeswoman Sarah Huckabee Sanders reiterated the line later on Wednesday that "countless" FBI employees had lost faith in Comey's leadership.
In a heated press conference, the White House's press representative said the administration saw no need for a prosecutor.
In a farewell letter to staff seen by television broadcaster CNN, Comey said he had "long believed that a president can fire an FBI director for any reason, or for no reason at all," adding he would not spend time dwelling on Trump's decision "or the way it was executed."
Top Democrats demand new probe
Democrats intensified accusations that Comey's sacking was intended to undermine the FBI probe and demanded an independent investigation into the alleged Russian meddling.
"If there was ever a time when circumstances warranted a special prosecutor, it is right now," Chuck Schumer, the Senate's top Democrat, said on Wednesday.
"If Rosenstein believes, as I do, that the American people must be able to have faith in the impartiality of this investigation, he must appoint a special prosecutor and get his investigation out of the hands of the FBI and far away from the heavy hand of this administration," Schumer said in the Senate Wednesday.
House Minority Leader Nancy Pelosi later weighed into the debate, threatening to use a parliamentary maneuver to force a vote on a bill that would create an independent panel to investigate possible contacts between the Trump campaign and Russian officials.
In a letter on Wednesday to House Democrats, Pelosi said that they'll file a discharge petition if Speaker Paul Ryan doesn't call up the legislation "immediately upon our return next week." The House is on recess this week.
"The fireworks at the Department of Justice demand that we remove the investigation from the Trump-appointed Justice Department leadership," Pelosi said.
Republican Senate Majority Leader Mitch McConnell told Democrats not to get their hopes up. On the Senate floor Wednesday, he said Democrats had begun "complaining about the removal of an FBI director whom they themselves repeatedly and sharply criticized."
The chairman of the Senate intelligence committee also said he saw no need for a special prosecutor.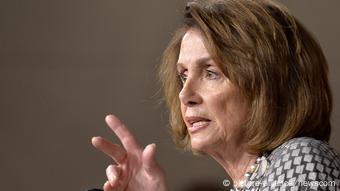 House Minority Leader Nancy Pelosi wants an independent probe
Support among Senate Republicans?
Senior Republicans rallied to Trump's defense. House Speaker Paul Ryan, for example, said Trump had lost patience with Comey, adding that Trump doesn't want the FBI "in disarray" and had acted within his authority to fire Comey.
But some called the action troubling.Richard Burr, a Republican from North Carolina, did acknowledge that "the timing of this and the reasoning for it doesn't make sense to me." Burr said his committee had the jurisdiction and responsibility to continue its investigation - and "we are going to do that."
Republican House Oversight Committee Chairman Jason Chaffetz said in a statement on Wednesday he had requested a review by the Department of Justice's inspector general of Trump's decision to fire Comey, who had more than six years left in his 10-year post.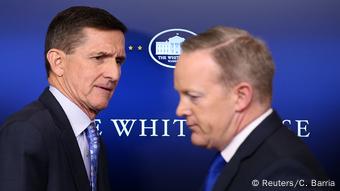 Ex-National security adviser General Michael Flynn (L) next to Press Secretary Sean Spicer at the White House in Washington February 1
Ongoing Senate probe subpoenas Flynn
The Senate intelligence committee has issued a subpoena seeking documents from former National Security Adviser Michael Flynn, whom Trump fired in January, related to the committee's ongoing investigation into Russian interference in the 2016 election.
Flynn's attorney Robert Kelner reportedly declined to comment.
Flynn had previously been in talks with the committee about agreeing to be interviewed as part of the investigation as long as he was granted immunity.
In March, Kelner said in a statement that Flynn had a "story to tell" but no reasonable person would agree to be questioned by the committee without "assurances against unfair prosecution."
mkg,jbh/kl (Reuters, AFP, dpa, AP)