When we think of climate catastrophes, flooding is pretty high on the list of nightmare scenarios. But it's not just rising sea levels that are threatening communities with inundation: New research shows that ever more of us are at risk from rivers bursting their banks.
As the global temperature rises, water evaporates into the air, humidity increases, clouds form — and what goes up must come down. It's among the laws of physics: Warmer air holds more moisture, meaning bigger clouds that can travel further, resulting in even more extreme storms.
Since the mid-1980s, climate scientists have recorded a 20 percent increase in record-breaking rainfall around the world — with devastating consequences.
In 2017, flooding across India, Bangladesh and Nepal affected 40 million people, and more than 1,200 died. In flooding in Sierra Leone, more than 1,100 people perished. As Peru recorded 10 times the normal level of rainfall, hundreds of thousands of people were displaced and at least 70 killed.
To round out the inventory of flooding's impact for last year, lives were also lost to flooding in China, the Philippines, Italy, and Vietnam, among other locations.
And 2018 has carried the trend forward. This week, at least 17 people were killed as dramatic storms swept California. Roads looked like rivers and homes were destroyed.
Predicting disaster
But according to scientists at the Potsdam Institute for Climate Research (PIK) in Germany, this is just the beginning. Around the world, many millions of people who have so far stayed safe and dry will face flooding unless action is taken to protect them, the researchers say.
In a bid to quantify the problem, PIK researchers created computer models based on existing data from rivers around the world to predict how important increased flood protection will become over the coming two decades.
"The findings should be a warning to decision-makers," one of the report's authors, Anders Levermann, said in a press release. "If they choose to ignore the issue, sadly enough, disaster will come. Doing nothing will be dangerous."
PIK found the areas that need to adapt most are in Indonesia — where the National Disaster Mitigation Agency reported 787 floods last year — along with India, Africa, the United States and even Western Europe, including the United Kingdom, France and Germany.
Authorities in these countries will need to build dikes, improve flood management systems, put new building regulations in place or even relocate entire communities, the study says.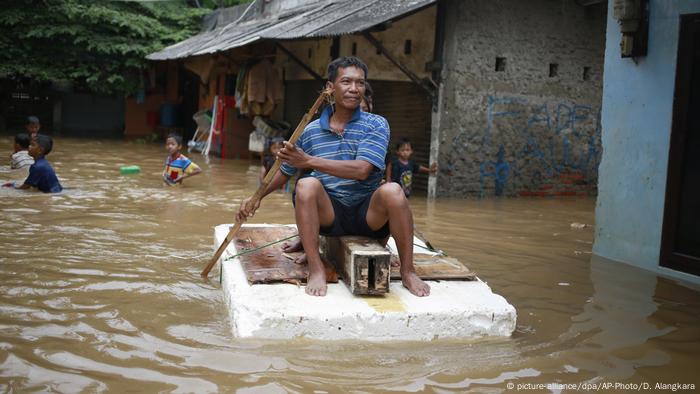 Flooding in Jakarta last year. The PIK study ranked Indonesia among countries with the greatest need for adaptation
Rich countries also at risk
"More than half of the United States must at least double its protection level within the next two decades if they want to avoid a dramatic increase in river flood risks," the study's lead author, Sven Willen, said.
Sabine Minninger of nongovernmental organization Bread for the World said she hoped the report would serve as a wake-up call to United States President Donald Trump, who has withdrawn his country's support for climate change adaptation.
"The report comes at just the right moment to show that climate change doesn't know borders," said Minninger. "No one is immune to its impacts."
The study found that richer countries with higher levels of protection would have to invest a lot to maintain their current levels of protection.
The number of North Americans threatened by the worst 10 percent of flooding will increase from 100,000 to 1 million, the study said.
"With respect to climate change adaptation, not just poor countries but also rich countries, like Germany where we are sitting, have much to do," Leverman told DW.
The report comes in the wake of intense flooding on the Rhine River, as a result of heavy rainfall.
Millions more at risk
In Germany, where the overflow of rivers this past week across the country halted boat traffic, inundating streets and monuments, 700,000 people could be at risk from flooding in the next two decades.
But compared to figures for other the risks of European countries, that isn't even so bad. The study found that number of Brits threatened by flooding will increase 28-fold. In France, a 15-fold increase is predicted.
In South America, the number of people threatened by flooding is expected to rise from 6 million to 12 million, in Africa from 25 to 34 million, and in Asia from 70 to 156 million.
And these estimates do not take population growth or increasing urbanization into account — the final numbers could be substantially higher.
Minninger said those most affected by floods today are those in the poorest parts of the world who already struggle to survive. They need to adapt not just to the future risk predicted by PIK, but also to protect people from the very real climate change impacts they are already suffering.
"If even the richest countries need to double their protection, why aren't they providing finance for the rest of the world to adapt?" Minninger said.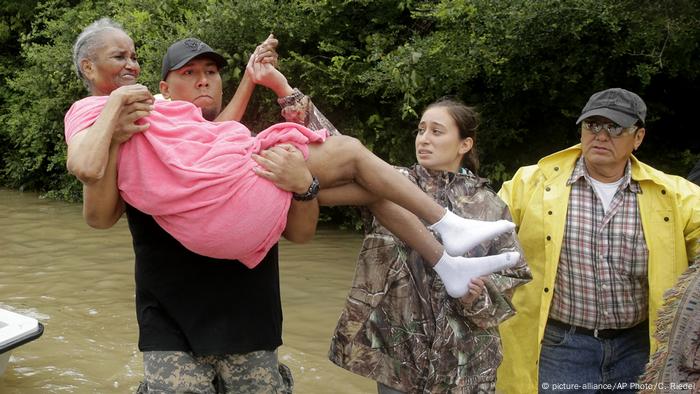 The Addicks Resevoir reached capacity during Hurricane Harvey, flooding west Houston
Far-reaching impacts
For the world's poorest people, the dangers of rivers overflowing can go way beyond the immediate inundation of homes and destruction of infrastructure.
"Flood events were the main cause of internal displacement in 2008 to 2015," Sven Harmeling of international aid group Care told DW, saying there was no guarantee they would ever be able to return home as many poor people lack clear legal rights to their land.
Outbreak of disease is an immediate risk, but there are also longer-term health impacts, including psychological.
"Flood catastrophes may tear apart families and separate children from their parents," Harmeling said. "Sometimes thousands of children are acutely malnourished over weeks, which may have long-term adverse health consequences."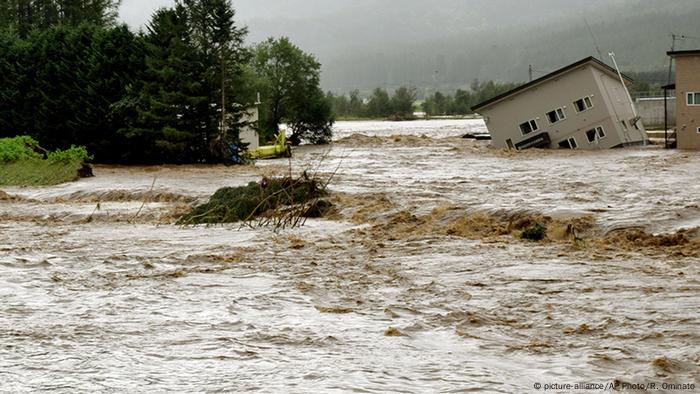 Floods can have long-lasting damaging effects, also on infrastructure
More money for adaptation
Yet Minninger said countries like the US could learn from poorer parts of the world, which are already dealing with dangerous new climatic conditions.
"In communities have no resources to protect themselves, for example in the Bangladeshi delta which are regularly flooded, concepts of community-based disaster prevention and management are applied and working very well — the people have learned to protect themselves with joint community-based efforts, for example in building dams," she said.
Environmental and development groups say not nearly enough progress is being made on raising the funds promised for adaptation by the Paris Agreement.
And unless we speed up measures to slow down global warming, the bill to prepare for the worst will keep going up.