The death toll from flooding in and around Athens rose to 19 on Saturday after three more bodies were recovered west of the Greek capital.
"The bodies of three men discovered on Saturday, aged 28, 58, and 35, have been identified by their families," said Nikos Papaefstathiou, the head of the National Health Operations Center.
"We are still searching for at least three people reported missing," he added.
Massive damage
Two of the bodies were found by port police in the Gulf of Eleusis, near the town of Mandra, about 15 miles (25 km) west of Athens. The bodies were those of men aged 35 and 55, according to an unnamed police official.
A third body was found buried in the mud in Mandra itself.
The unusual flood hit Mandra and nearby towns early Wednesday.
Before Saturday's discoveries, the death toll had been 16. Another three people are still believed to be missing.
In addition to the search for the missing, recovery efforts have focused on clearing roads. The cost of the damage is still unclear, though it is extensive.
About 2,000 homes and businesses have been destroyed in Mandra, according to the town's mayor, while another 500 homes have been destroyed in nearby Magara, according to an official there.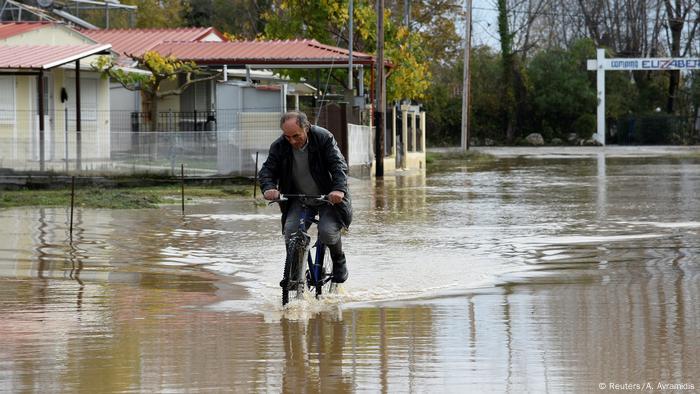 The village of Variko has also been flooded badly
Talk of a tsunami
The local cemetery in Mandra was also hit hard, with much of it buried under mud and broken tombstones strewn about the place.
Government officials and aid agencies have been distributing food and water in the town.
"For the third day, there isn't a single open shop in Mandra; we don't have water, (and) we haven't washed since Wednesday," local shop owner Evangelos Peppas said Friday.
Most of the victims drowned after being either carried away by the floodwaters and mudslides, or trapped in flooded cars or basements.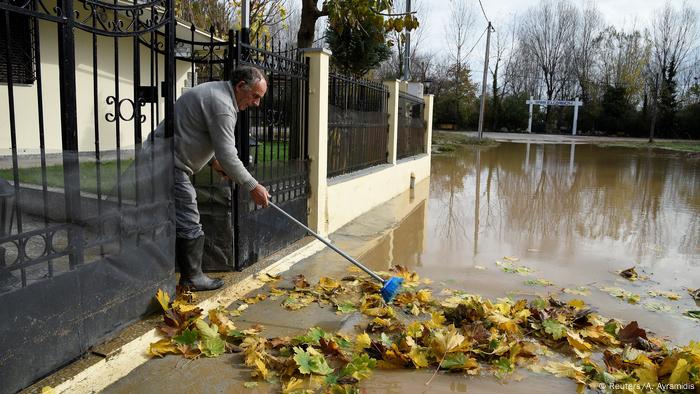 Clean-up operations will take some time
Shoddy development?
While some local residents spoke of a "tsunami," experts took aim at poorly conceived development plans, which they said made the set-up a disaster waiting to happen.
Substantial upgrades to the drainage system were approved in 2016, but work still has not begun.
The hardest-hit areas are expected to request EU solidarity funds, the Athens governor's office said.
There are growing fears about the fate of thousands of unregistered migrants who have been working as farmhands in the Mandra area.
Sections of the main Corinthian highway on the west coast were washed away by floodwaters. Torrential rain began pounding the region on Wednesday. The intensity has eased, but the rain isn't expected to fully end until Monday.
bik/tj (AFP, dpa)