British police arrested WikiLeaks founder Julian Assange in the Ecuadoran embassy in London on Thursday after the South American country revoked his asylum status.
Assange had been in the embassy for seven years to evade a Swedish extradition request over claims he sexually assaulted two women. His arrest paves the way for his extradition to the United States, where he is wanted for leaking classified government documents.
Read more: 'Strange disappearance' of WikiLeaks consultant in Norway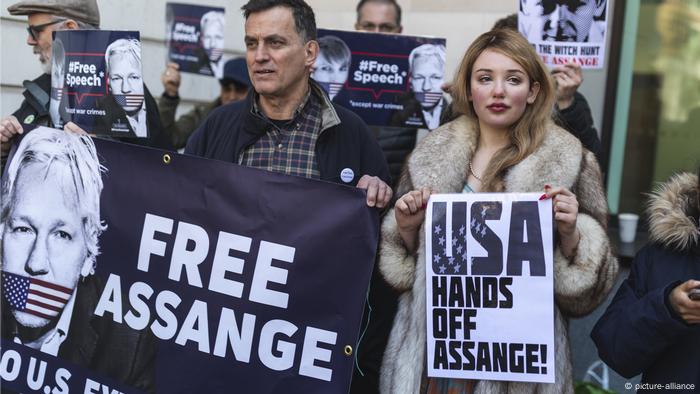 Protesters have called on the UK to release Assange
What happened:
Police entered the embassy at the request of Ecuadoran authorities, with President Lenin Moreno saying Assange had violated the terms of his asylum.
British authorities said they executed the arrest for "failing to surrender" to a British court over a Swedish extradition request in a case that lapsed in 2017.
The police later confirmed that Assange had been "further arrested in relation to an extradition warrant on behalf of the United States."
US authorities unsealed an indictment against Assange for conspiracy to commit computer intrusion, a charge with a maximum penalty of five years in prison.
Assange later appeared in court, where he pleaded not guilty to the British surrender charge.
Later Thursday, a person close to Assange was detained in Ecuador as he was attempting to leave for Japan, Ecuador's interior ministry said.
Read more: From VW to Julian Assange: How does extradition work?
Wanted man
Assange, as one of the founders and editors of WikiLeaks, a non-profit that publishes secret information, is known for the release of classified information regarding the wars in Afghanistan and Iraq, the US detention center in Guantanamo Bay and hundreds of thousands of diplomatic cables.
Washington has sought to prosecute Assange for espionage since 2010 for his involvement in the publication of the classified files.
The Australian earned further ire in the US in 2016 for publishing a series of emails damaging to the presidential campaign of Hillary Clinton, for whom he has a particular dislike dating back to her time as US Secretary of State. He said he received the emails from Russian intelligence officials.
He has also drawn criticism for adding fuel to right-wing conspiracy theories about the murder of Democratic National Convention staffer Seth Rich.
Read more: Opinion: Tolerating WikiLeaks
'No one is above the law'
WikiLeaks editor Kristinn Hrafnsson said Assange plans to fight extradition to the US, saying: "Anyone who wants the press to be free should consider implications of this case. If they extradite a journalist to the US, then no journalist will be safe."
British Prime Minister Theresa May welcomed the news of the arrest, saying it proved "that in the United Kingdom, no one is above the law."
Elisabeth Massi Fritz, a lawyer who represents one of the women who have accused Assange of sexual assault, has urged Swedish authorities to reopen the criminal case, saying: "No rape victim should have to wait nine years to see justice served."
On Friday, Australian Prime Minister Scott Morrison said Assange, an Australian national, and his arrest in London had nothing to do with [them].
"When Australians travel overseas and they find themselves in difficulties with the law, they face the judicial systems of those countries. It doesn't matter what particular crime it is they've allegedly committed," Morrison told Australian broadcaster ABC. "That's the way the system works."
Read more: Whistleblower Chelsea Manning in Berlin warns over Google, Facebook privacy
Every evening, DW's editors send out a selection of the day's hard news and quality feature journalism. You can sign up to receive it directly here.
ls, es/amp (Reuters, AP, AFP)