Last month the birth of two Sumatran tiger cubs made headlines as the rare event was captured on camera at Chester Zoo in the north-west of England. Only 300 to 400 Sumatran tigers are thought to be left in the wild, and the species is considered to be critically endangered.
The Chester Zoo tigers are part of an international captive breeding program aimed at saving Sumatran tigers from extinction.
"The international breeding program is vital in terms of creating a viable back-up population to the wild," said a zoo spokesperson. "That's why these new arrivals are so important."
Yet some campaigners argue that captive breeding programs, where animals are bred in human-controlled environments like zoos and wildlife reserves, can never save endangered species alone.
Captive breeding "not sustainable"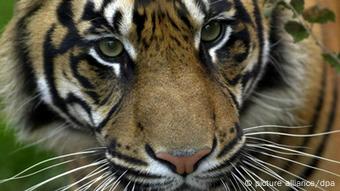 Experts say that only 300 to 400 Sumatran tigers still live in the wild in Indonesia
"It is very likely that the tigers born at Chester Zoo will spend the rest of their lives in a zoo. I think it is extremely unlikely that they will ever be re-introduced into the wild," said Chris Draper from the Born Free Foundation, a conservation charity working with helping endangered animals survive in their natural habitats.
"If you look at Sumatran tigers, the numbers kept in breeding programs around the world are unfortunately not sustainable in the long term, particularly in terms of genetics. They will not be able to maintain 90% genetic diversity over 100 years, which is what is used as a measure of whether or not the program is going to work."
Some species exist in so small numbers in captivity that their gene pool is not large enough to protect them from diseases. This is one of the main problems with captive breeding, according to Draper.
"So if, perish the thought, Sumatran tigers went extinct in the wild, you would soon see them go extinct in captivity thereafter. And the captive breeding program is not going to supplement animals in the wild while these problems are still going on," said Draper.
Zoos work on conservation
Zoos around the world, however, argue their captive breeding programs not only help save the tiger from extinction, but they also inspire zoo visitors to contribute to conservation efforts in the wild.
"The opportunity to meet a tiger up close and really understand that animal, is a tremendous motivator for guests at the zoo," Harrison Edell, the general curator at Sacramento Zoo in California, USA, told DW.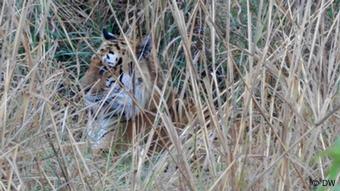 Tigers' natural habitats are under threat from forestry and expanding development
His zoo also saw the birth of a Sumatran tiger cub earlier this year. The zoo is part of the Species Survival Plan, or SSP, for Sumatran tigers, coordinated by the US Association of Zoos & Aquariums. SSPs are breeding and conservation programs designed to maintain genetically viable populations of animals in captivity.
"We are motivating people to contribute additional resources to those conservation programs," says Edell.
"Each individual zoo contributes huge amounts of money to tiger conservation as well. I think critics might not always be aware of the amount of money the zoological community is donating to habitat preservation and conservation programmes in the field."
Tigers have nowhere to go
Some animals have been saved from extinction through breeding programs in captivity, like in the case of the Arabian oryx and the Mongolia-based Przewalski's horse. But Edell concedes that captive breeding of the Sumatran tiger has not yet led to a successful boost of the wild population.
"There are certainly lots of case studies of species that we've worked with in captivity and have been able to reintroduce to the wild. In the case of tigers we're not quite at that point yet."
Edell believes that often, due to environmental destruction or poachers, there is no suitable habitat left for released tigers to move back to.
The idea that zoos inspire people to take an interest in wildlife conservation is a bit too idealistic says Chris Draper from the Born Free Foundation. He believes that is not enough, and that the money spent on showcasing wild animals to the public could be better spent on helping protect and improve the tigers' natural habitat.
Poaching is still rife in tiger habitats worldwide
"The zoo industry makes a very big deal of their role in inspiring for conservation, and I suspect that's because it's very difficult to quantify," Draper told DW.
"We firmly believe the finances should be diverted to conservation of tigers in what remaining habitat they have," he said. "The problem needs to be tackled immediately."