The protests in Shifang, a poor town in southwestern Chinese province of Sichuan, flared anew last weekend after residents heard stories that a 14-year-old student who had joined the demonstrations had been beaten to death. Before this latest twist, most of the protesters - who early this month staged a bloody confrontation with police over the construction of a 1.6 billion US dollar (1.3 billion euro) molybdenum copper plant - were apparently pacified by the authorities' unusually speedy decision to scrap the project.
While the latest news from Shifang is that the police seemed to have reassured the public that no demonstrator had been killed while in custody, the Chinese Communist Party (CCP) leadership is bracing itself against two new trends that the Shifang incident portends. One is the massive political participation of the so-called post-90 generation, a reference to high school students and other young people born after 1990. The other is the large number of nationally famous bloggers who have defied official regulations by harshly criticizing the government's handling of the Shifang incident.

Not afraid of sacrifice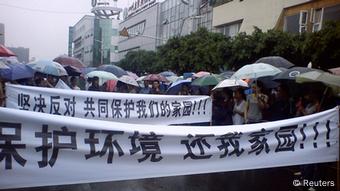 Chinese authorities decided to scrap the construction of a copper plant after protests
Protests against chemical or metal plants have periodically been held in China for the past decade. However, Shifang could become a game changer due to the unusually enthusiastic participation of the majority of students from the Shifang Middle School. The slogan of these students has resonated among the tens of millions of the country's post-80 and post-90 netizens: "We are not afraid of making a sacrifice; we're of the post-90 generation."
The CCP propaganda machinery immediately swung into action to try to stop this trend. For example, the influential Global Times ran an editorial titled, "We should not encourage high school students to show up at the frontline of [social] conflicts." The official paper, which is a subsidiary of the newspaper People's Daily, warned different social sectors "not to unreservedly praise the [political] participation of high school students.

"Nobody should encourage high school students to plunge into different types of mass incidents, not to mention going to the frontline of political confrontation," it noted. "It is immoral for adults to make use of youths to attain their political goals."

Making use of the young

The CCP has had, of course, a lot of experience with using young men and women, including high school students, in political campaigns of the most egregious nature. Much of the bloodiest incidents during the Cultural Revolution were committed by college and high school students in the name of defending the dictums of Chairman Mao.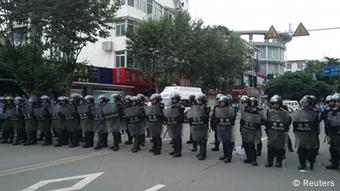 China has seen an increasing number of protests in the past decade
Compared to their post-80 forebears, members of the post-90 generation seem to have less economic and political baggage. For example, they do not yet need to worry about jobs and saving enough money to pay their first mortgages. Most importantly, the Internet - in particular microblog devices such as the Chinese versions of Twitter and facebook - has more influence on their way of thinking than the standard government propaganda they receive in school.
As the vastly influential writer and blogger Han Han wrote of the teenagers who took part in the Shifang protests: "It's wrong to call them future leaders of the country; they are already today's movers and shakers."
Apart from Han Han, more than 100 nationally known bloggers wrote lengthy pieces on the Shifang episode. Most of these lambasted local authorities for not only failing to consult their constituents but also having colluded with powerful business interests so as to seek private gains. The Cyberspace opinion-makers also give their unreserved support for high school students making known their stance on sensitive political issues.
It is perhaps for this reason that the Central Commission on Political and Legal Affairs (CCPLA), which is China's highest decision-making body on law and order issues, recently switched to an apparently softer line on how to defuse China's estimated 150,000 cases of "mass incidents" a year.
Politburo Standing Committee member Zhou Yongkang, who heads the CCPLA, said last week that law enforcement cadres should emulate the so-called Wukan Village Model of Guangdong. This was a reference to Guangdong authorities' conciliatory treatment of Wukan villagers who late last year threw out local officials who had been accused of having illegally confiscated the household family plots of peasants and then selling them to developers at huge profits.

Backbone of change?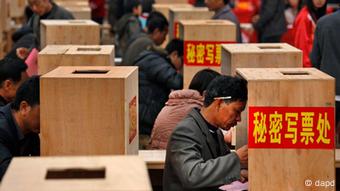 Residents of Wukan got new elections after staging a rebellion against local authorities
Chinese sociologists who have studied the political traits of the post-90s generation agree that it is premature to suggest that they will form the backbone of the next wave of nationwide protest movement. After all, the majority of college and high school students seem to be following the traditional pattern of putting top priority on either studying abroad or finding "safe" and prestigious employment such as civil service jobs.
However, as Mao said in the 1930s, "a spark from the heavens is enough to set the whole grassland on fire." More high school students joining the fray could only spell trouble for a regime that is already beleaguered by disgruntled citizens on all fronts.

Author: Willy Lam
Editor: Sarah Berning