The dinghy sank and my heart, hot for Europe, went cold," wrote Yasser Niksada, 15-years-old at the time. "The world slept, we alone were awake, hungry, thirsty, tired." Yasser's text about his escape to Europe is lyrical. Ghani Ataei's memories are touching, too: "People in my village were killed in front of my very eyes," he writes. "For four days, I couldn't speak ... until I understood. No one expects anything from anybody else."
"I am without hope where the world is concerned," the 16-year-old concludes.
The tales the young Afghans, 14- to 18-year-old unaccompanied minors, have to tell about their escape to Europe are heartrending.
Read more: Amnesty urges EU to stop deporting Afghan asylum-seekers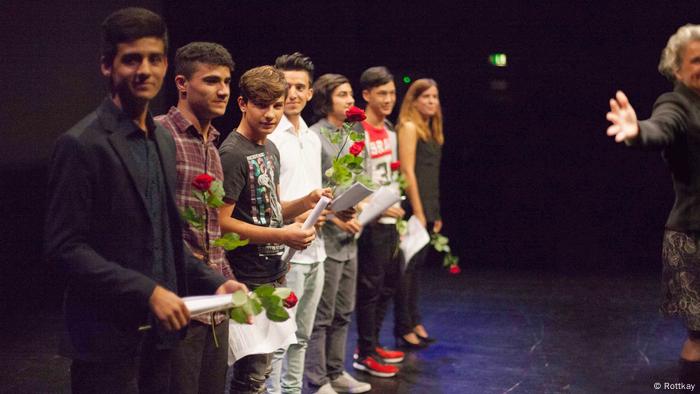 Participants in the Berlin Poetry Project
Families sent away their sons, never daughters; some of the teenagers sound surprisingly mature, in particular when putting into words their desires and feelings of foreignness. The six laureates participated in The Poetry Project, which was initiated by Susanne Koelbl, an editor with Germany's Spiegel news magazine. The poems are meant to embed themselves into the "collective memory of all people"
"Everyone contributes, whether they are poor or rich, whether they have a happy or a tragic story," the project plan said.
Read more: Protests against latest Afghan deportations from Germany
Refugees of past and present
The Wuppertal-based Else Lasker-Schüler Society awarded the prize to the up-and-coming poets — and the Berlin Poetry Project – because they are examples of "successful integration," said Hajo Jahn, the society's chairman. There are parallels between the young Afghans fate and the life of Else Lasker-Schüler.
Born in Wuppertal, the German Jewish poet (1869-1945) was a refugee, too, who fled Nazi Germany in 1937 and eventually arrived in Jerusalem. She wrote about her experiences of flight and being banned from her job in her poetry. She muses about a world that has gotten colder in the poem "The Displaced," which is part of the 1943 collection "My Blue Piano," her last book release.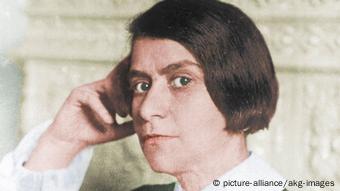 Poet, artist: Else Lasker-Schüler in 1932
German human rights activist Günter Wallraff is set to hold the honorary speech at the award ceremony for the prize the Else Lasker-Schüler Society bestows on the six young Afghan men on Friday. The ceremony is titled, "Alone, enroute to Europe."
Afghan-born Yasser Niksada, who lived as a refugee in Iran before moving on to Europe, concludes his account of the passage to Europe with the insight that, one day, returning "will be more difficult."
"All that we went through for just a bit of peace of mind - not for me, but for my family," the young man says.