International aid organization Oxfam projected Friday that the number of cholera cases in Yemen could rise to more than 600,000.
The announcement comes after the World Health Organization announced that almost 370,000 suspected cases of cholera and 1,828 deaths have been reported since the outbreak began in April. That's higher than the previous annual record of 340,311 in Haiti in 2011.
"It is quite frankly staggering that in just three months more people in Yemen have contracted cholera than any country has suffered in a single year since modern records began," Nigel Timmins, the charity's humanitarian director who has just returned from a fact finding mission to Yemen, said in a statement.
"Cholera has spread unchecked in a country already on its knees after two years of war and which is teetering on the brink of famine," he said.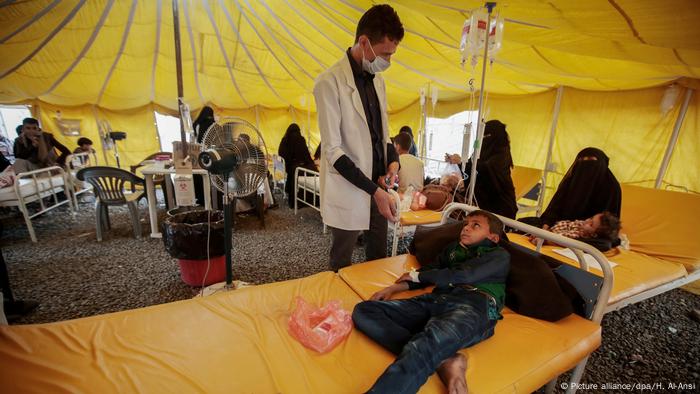 Yemen's health system has collapsed since the war intensified in 2015
Decline in cases?
This week the WHO reported a dip in suspected cases over the past two weeks in some of the worst hit areas, including the capital Sanaa, but said it was too early to tell if it was a trend because data is still being analyzed.
Both the UN's health body and Oxfam warn the rainy season between July and September could see the disease spread faster via water contaminated with faeces.
"Yemen's cholera outbreak is far from being controlled, the rainy season has just started and may increase the paths of transmission," WHO spokeswoman Fadela Chaib told reporters in Geneva on Friday, adding that 5,000 Yemenis fall ill with acute diarrhea or cholera every day.
Widespread malnutrition
The conflict in Yemen has escalated dramatically since March 2015, when a Saudi-led coalition backing the internationally-recognized government launched a bombing campaign against Houthi rebels.
The war has left 10,000 people dead, displaced 3 million and pushed the Arabian Peninsula to the brink of famine, the United Nations says. Half of the country's health facilities have shut down, hampering Yemenis' access to vital services. The closure of the country's main ports and airports has also prevented aid agencies from distributing supplies.
nm/rt (AP, Reuters)