The anti-government opposition in Yemen has called for Gulf Arab states to withdraw a political transition plan that has failed to oust authoritarian President Ali Abdullah Saleh from power.
The opposition claims that the Gulf Cooperation Council has modified the deal to allow Saleh to sign as party leader instead of as president. Anti-government demonstrators say the modification is a sign that Saleh is trying to manipulate the process.
"We call on the leaders of the Gulf Cooperation Council (GCC) to stop any initiatives that result in alienating the Yemeni people," the Youth Revolution - a coalition of activist groups - said in a statement.
"We call on the United States, European Union and the permanent UN Security Council members to assume their moral responsibility and stop meddling directed against the will of the Yemeni people to ensure freedom and democracy."
However, GCC General Secretary General Adullatif al-Zayani denied the Yemeni opposition's allegations that the plan had been changed.
"It is the same GCC initiative," Zayani said. "We added the names of people to sign the agreement."
The plan calls for the formation of a government of national unity with Saleh transferring power to his vice president and resigning 30 days after signing the agreement. Saleh would also be immune from prosecution.
US drone attack
Meanwhile, the United States launched missile strike with a predator drone that failed to hit terror suspect Anwar al-Awlaqi, an American citizen who is a suspected leader of al Qaeda in the Arabian Peninsula.
The strike, which was launched on Thursday, occurred in Yemen's Shabwa province, an al Qaeda stronghold.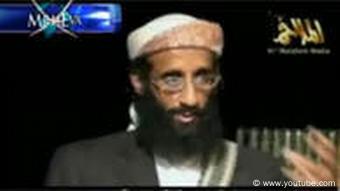 Anwar al-Awlaqi is an American citizen
Al-Awlaqi was travelling with a Saudi al Qaeda member when the strike occurred, according to a source from al-Awlaqi's tribe.
"The car had minor damage, but they were able to proceed in another car," the source told the news agency AFP.
The missile strike is the first to target a high-level al Qaeda leader since Osama bin Laden was killed in a US command raid in Pakistan last Monday. It remains unclear if the strike was the result of intelligence gathered from bin Laden's compound.
Author: Spencer Kimball (AFP, Reuters)
Editor: Kyle James