More than 100 yellow vest demonstrators were arrested in Paris on Saturday as scuffles broke out between police and protesters.
As the 23rd week of anti-government marches got underway, officers deployed anti-riot grenades and tear gas to disperse marchers in the center of the French capital and around the Place de la Republique plaza in the east of the city.
Radical protesters hurled paving stones and flares, attacked at least one boarded-up store, and set fire to a few vehicles, police said.
A total of 60,000 officers were deployed across France for the latest "gilets jaunes" (yellow vest) protests, which were mostly peaceful.
At least 5,000 police were stationed in the capital alone, as authorities warned protesters to keep away from Notre Dame cathedral and the banks of the Seine following last week's fire.
Interior Minister Christophe Castaner had said at a press conference on Friday that he believed extremists and vandals were planning to continue their campaign of rioting, setting fires and looting — along the lines of scenes witnessed on the Champs-Elysees in March.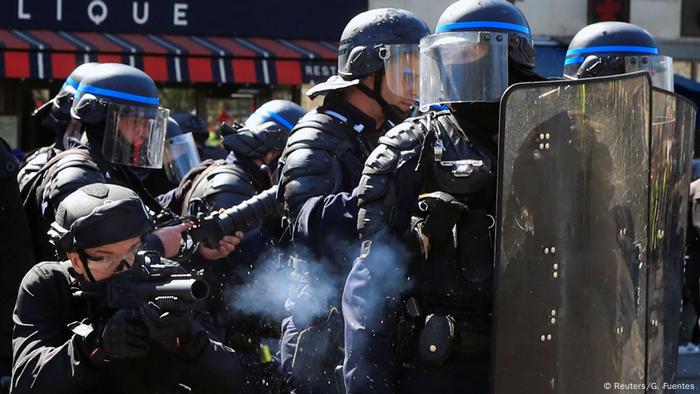 Nearly 28,000 people took part in the protests across France, with 9,000 of them rallying in Paris
The protest over income and tax inequality had been scheduled before the devastating blaze at the iconic cathedral, which caused the spire to collapse and most of its roof to fall in. It took firefighters four days to stabilize the building, and they only finally left the premises on Friday night.
President Emmanuel Macron had been due to announce a plan addressing some of the demonstrators' concerns on the evening that the fire broke out.
Response to billionaires' donations
For many yellow vest participants, the aftermath of the blaze proved their point about the balance of wealth in France. Organizers have expressed their consternation that although Notre Dame's caretakers have been saying for years that they did not have enough funds for repairs, several billionaires announced they would give massive donations only after the fire.
"They can mobilize a truckload of cash in one night for Notre Dame," but they can't help the poor, said spokeswoman Ingrid Levasseur.
Opposition politicians and protest leaders have also expressed their doubts about Macron's ambitious plan to completely rebuild the church in five years, and have scoffed at what they see as his attempts to use the tragedy to create national unity.
Notre Dame's 200,000 bees survive blaze
There was, however, some good news out of Notre Dame late on Friday, when the cathedral's beekeeper announced a "miracle": The 200,000 bees living on top of the building had survived.
The project to keep bees on Notre Dame was introduced in 2013 after the number of bees in Paris began to plummet. Urban agricultural company Beeopic maintains hives at the cathedral, and it posted pictures of the surviving bees on Instagram. It also confirmed that "nos abeilles" ("our bees") were still on site.
"Thank goodness the flames didn't touch them," Nicolas Geant said in an interview with CNN. "It's a miracle!"
Every evening, DW's editors send out a selection of the day's hard news and quality feature journalism. You can sign up to receive it directly here.