A group of 15 pupils - mostly girls - is gathered in a small room this morning in Durban, South Africa's third-largest city. While it is still early in the morning, it is already hot and muggy on the Indian Ocean.
The young people are here to talk about the event that millions around the world are looking forward to, but which could also be very dangerous for them -- the World Cup. Bongiwe Mthethwa, director of an organization called Concerned Young People in South Africa, has been campaigning all over the country with her colleagues to raise awareness about human trafficking and forced prostitution.
They have held more than 1,000 talks at schools and other institutions to help pupils protect themselves from falling into the hands of people traffickers and other predators.
"Be careful when someone offers you a drink, it could contain drugs," Bongiwe said, speaking in Zulu to be sure the young people understand her.
Young and vulnerable
Some abductions of young people have already been reported, Bongiwe said, and traffickers have been taking photos of young girls who they want to offer to visitors during the World Cup as prostitutes.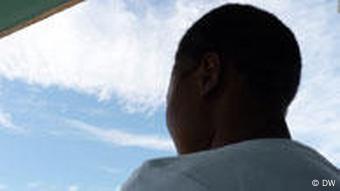 Mandisa was forced into prostitution but was able to flee her captors
Girls are particularly vulnerable, because they will not be at school during the matches, but out in the streets, which makes them targets," she said. "It's very, very high risk to have children in South Africa during the World Cup. If we had a choice we would transfer them anywhere else but South Africa."
During these discussions about the potential dangers, 24-year-old Mandisa is usually sitting in the first row. She tells the horrific story of what happened to her in the hopes that others can avoid a similar fate. She was abducted while walking in the street, confined in a house and forced into prostitution.
"[My kidnapper] gave me drugs and I had no idea what was happening," she says. "He locked me up in a room, tied my arms and legs and raped me. After that he called his clients and I became a sex slave for him."
Mandisa was lucky, she managed to escape. But South African authorities fear that many more girls like Mandisa could be abducted in the next few weeks. The estimate that up to 40.000 prostitutes will be working during the World Cup - many of them against their will.
Exaggerated fears
But lobby groups for prostitutes, like an organization called SWEAT in Cape Town, think these estimates are exaggerated.
"There was this prediction that 40,000 women would be trafficked during the World Cup in Germany," said Vivienne Lalu, director of SWEAT. "But research found only a handful, less than five actual examples of trafficked women. I suspect we'll have similar outcomes in South Africa."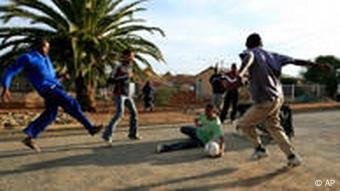 Young people are thrilled with the World Cup, but the event holds dangers for them as well
Prostitution is still prohibited in South Africa, and sex workers can be fined as well as imprisoned. SWEAT advocates legalizing the world's oldest profession, arguing that in addition to deterring potential traffickers, bringing it out of the shadows would make it easier to monitor prostitutes' health, including their HIV status. That's especially important in South Africa, home to 20 percent of HIV infections worldwide.
Like Durban, Cape Town is a port city and a center of the South African sex industry. There are an estimated 1,200 prostitutes in Cape Town, Ray is one of them. She says she is a sex worker by choice, but admits the work is dangerous. She is looking forward to the World Cup because of the influx of potential customers, but she does worry.
"I'm scared of police harassment that's going be stepped up," she says. "And I'll be competing with foreign sex workers."
Legalization debate
While sex and soccer will quite likely go hand-in-hand during the World Cup, the issue of legalization is not at all settled. The controversial subject has sparked heated debates throughout the country.
"I don't think we should condone such things," said one woman in Durban.
"I don't agree with it but if they feel they are doing what they have to do to earn a living, who are we to question that?" said another
Legal or not, Ray doesn't plan on changing her job anytime soon. In fact, she still hopes the World Cup will be her big chance. "I look forward to the World Cup. I want to make a friend and maybe I'll go overseas and make even more money," she said.
Despite their efforts, lobbyists from SWEAT fear they won't get much support from the government for their campaign to legalize prostitution to help prevent HIV infections. Many non-profit groups have complained that South Africa should use this global even to step up its fight against HIV/AIDS. But many say they are being blocked along the way.
This week, South African AIDS organizations accused football's governing body FIFA of blocking access to condoms and HIV education materials at World Cup stadiums and fan parks.
"To date FIFA has not permitted any civil society organization to distribute HIV or health-related information," said the AIDS Consortium, the Southern African HIV Clinicians Society and several other organisations in a statement.
They are not encouraged by South African President Jacob Zuma, who was charged with rape in 2006. Although he denied the charge, he did admit to having consensual sex with an HIV-positive woman. Then he declared in court that he had taken a shower to prevent HIV infection, angering many AIDS educators.
Author: Ludger Schadomsky (jam)
Editor: Rob Turner