A recent investigation of 600 brothels by the Greman Federal Criminal Police uncovered at least 170 Nigerian women working illegally as prostitutes. Authorities determined that 50 of them were victims of human trafficking.
Nigeria is one of many countries to have signed the United Nations Protocol against human trafficking. But some Nigerian women as young as 15 are still smuggled to Germany and elsewhere in Europe to work in the sex trade.
Federal Police Inspector Markus Steiner has been checking on the brothels around Frankfurt's central train station, where the city's red light district is located.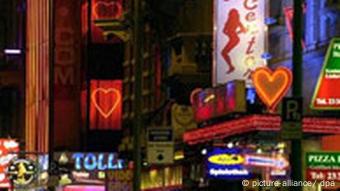 Hundreds of trafficked women end up in Frankfurt's red light district
"This is the neighborhood where a girl from a village in Nigeria arrives. In a foreign city where neither the language nor the culture is known to her, where fighting is normal and where even a German person would be uncomfortable," Steiner told Deutsche Welle.
One brothel he visits, a huge, red-lit house topped by sculptures of nude women, has a parking lot full of posh cars.
Steiner said that more than 140 women work there, but the number of prostitutes working each day in the neighborhood around the train station totals about 500.
"At the moment we might not find any African prostitutes, well no Nigerians, anyway," Steiner said. "For us this is a success. But one has to admit that just because no Nigerian victims are found here, that doesn't mean there are fewer victims of human trafficking. It just means that the victims have been sent to other cities like Hanover, Hamburg, Stuttgart, Munich and elsewhere in Germany."
'Voodoo oath'
The Nigerian trafficking networks frequently use a set of traditional beliefs, commonly referred to in the West as voodoo, to intimidate and manipulate their victims.
Belief in voodoo is very strong in parts of Nigeria, and the women are often forced to make an oath by one of the religion's priests, in which they swear obedience to their trafficker or pimp.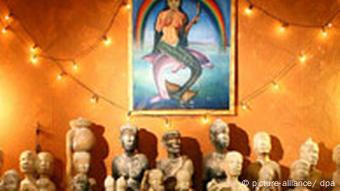 What's commonly called "voodoo" is a religion practiced in parts of Africa, the Americas and the Carribbean
Most of the illegal Nigerian prostitutes caught by the police have a lot of stories to tell, but getting them to talk can be difficult. It takes a lot of experience and patience for police to get the real truth from these women - and only then are they able to help them. Because the police are aware of the dangers for trafficking victims who return home, the women are offered political asylum.
'Not easy to say something'
Ritha Ekweza has been through this process. She began working as a prostitute in Germany in September 2007. After being caught, she testified in court in Frankfurt against her sponsor. After the trial, she explains with tears in her eyes how painful it was to have to recall everything she underwent during her time as a prostitute.
"It is not easy to stand and say something, but the thing is, when they bring the girls here, they will just tell them that everything is good, everything is easier, but when you come here it's not the same situation," said Ekweza. "They will bring you and take advantage of you."
Once Ekweza was brought to Europe, her traffickers informed her that she had to pay back some 60,000 euros ($82,000) to them for her flight and other expenses. She worked as a prostitute seven days a week, sometimes attending to more than 18 men a day, to pay off the debt.
In May 2008, she was jailed in Frankfurt for being an illegal prostitute. But together with police and a local women's rights NGO, she overcame her fear of breaking the voodoo oath. She now works as a hairdresser, and has started a family. She still receives counseling from a local NGO called FIM, or Women's Rights are Human Rights. Ekweza is one of more than 900 African women the organization serves as clients each year.
"We try to stabilize her, socially and psychologically," said Elvira Niesner, a coordinator with FIM. "We look [to make sure] that she feels secure. That is very important, and she will get the money from the officials to survive."
But the biggest challenge remains that of countering the belief in voodoo, which complicates efforts to stop human trafficking from Nigeria. Although police are able to help some women escape from the traffickers, most end up returning to prostitution.
They still want to fulfil their promise of paying back the 60,000 euros that they made in front of a priest in Nigeria.
Author: Asumpta Lattus/svs
Editor: Rob Turner