Despite the grass being a few millimeters too high for Joachim Löw's liking, Germany's first World Cup training session at CSKA Moscow's training ground was a picture of serenity. After a few passing drills and a mini-game or two, it was time for selfies and autographs with the 300-odd fans in the stands. The defending champions have eased into the beginning of the tournament, but the pressure is already building around them.
Germany want to become the first nation since Brazil in 1962 to defend the World Cup title. They have an outstanding squad and head coach, and both are determined to exceed expectations and win it all again. But the lingering cloud of the Mesut Özil/Ilkay Gündodgan/President Recep Tayyip Erdogan incident is not blowing away as desired. The team's lofty reputation both on and off-the-field is in some jeopardy for the first time in a while, and how they cope with the altered spotlight could be a decisive factor in Russia.
"The stronger the inner team, the less external interference reaches the team," sports psychologist Dr. Jens Kleinert told DW while discussing the possible mood in the camp. As true as that may be, and as strong and unified as this team seem to be, Germany are having to contend with a trio of pressures: the pressure to win, the pressure to be great and, perhaps hardest of all, the pressure to uphold the perceived values of a nation.
Issues away from the pitch
In Wednesday's press conference at the team's hotel in Vatutinki, Löw sounded weary when talking about the incident that saw Özil and Gündogan pose for a photo with the Turkish president. Germany's head coach said his job now was to prepare the two players as best he could, although admitted that after the Saudi Arabia friendly in Leverkusen Gündogan "needed picking up."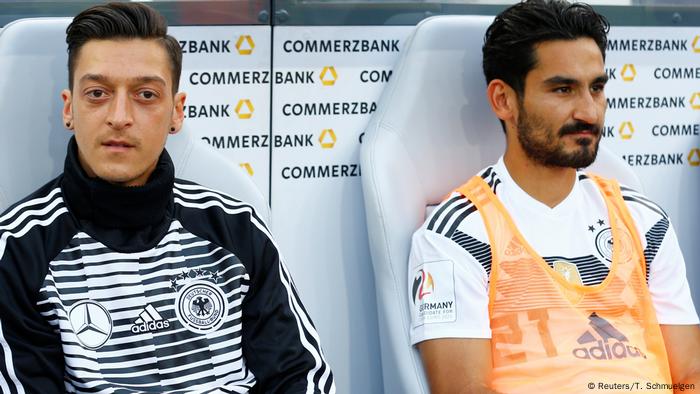 German FA president Reinhard Grindel was also pressed on the matter and was more forthright in his response. "In 2014, integration was seen as a positive. Immigration in 2015 changed that. People see problems. We have a clear position as the German FA. We are dealing with a societal issue… There are problems in this country that stretch far beyond this team," Grindel said.
While that may be true, Germany's football team has long aimed to positively contribute to solving those problems. The governing body's determination to end a conversation that the country hasn't finished with, is no help in that regard. While Gündogan may well, as Grindel put it on Wednesday, have done all he could have since the incident, the German FA have perhaps underestimated the scale of the issue and, in doing so, added more pressure to an already- intense environment.
Sport will eventually take center stage
Many will be keen for the sport to take center stage again, and Kleinert says they won't have to wait too long. "The longer the tournament in Russia goes on, the less of a role external factors will play. It's a psychological effect. The closer I am to my goal, the more I focus on it," he said.
As Löw stated last year, Germany want to win this World Cup rather than just defend it. Winning when it matters is what this team has built themselves around, so it would be foolish to judge them before their World Cup opener against Mexico on Sunday. With each game that passes, the picture will become clearer.
Löw recently admitted to press agency DPA that Germany can be an average team when they drop a level and allow mistakes to creep in. Their pre-tournament form has been poor and the attempted silencing of the political issue has provided their detractors with more ammunition. It's all painted Germany in a much less flattering light than the one they normally occupy. But if Löw's men can live up to their self-declared reputation as a tournament team and lift the trophy in four weeks' time, all that is likely to be a footnote.