As almost 200 nations gathered in Cancun for the first day of climate talks on Monday, representatives were focused on securing smaller-scale agreements on issues ranging from deforestation to green technology-sharing, rather than a comprehensive pact on global warming.
Efforts to hammer out a successor treaty to the Kyoto Protocol have stalled amid ongoing disagreements on binding emissions cuts - with the last big push to draw up a set of collective targets falling short at the UN summit in Copenhagen last December.
As a compromise, the Copenhagen Accord saw countries outline their climate protection strategies - but the last-minute document was non-binding and opposed by some developing nations.
Climate change is real
At the opening of the talks, host and Mexican President Felipe Calderon emphasized that the effects of climate change were already being felt, with the most severe hurricanes on record in Mexico, flooding in Pakistan and the record heat wave that caused forest fires in Russia earlier this year.
"Climate change is beginning to make us pay for the fatal errors we as humanity have committed against the environment," he said.
"It's crucial for the international community to prove that Cancun can deliver progress," EU climate Commissioner Connie Hedegaard said in Brussels before departing for Mexico.
"If not, I fear that some parties would lose patience in the UN process," she warned.
Helping developing countries cope with the financial impacts of climate change remains a hot-button issue for negotiators.
International representatives see the two-week talks in Cancun as a fresh start and hope concrete steps forward will chew away at the crisis of confidence facing the latest round of negotiations.
Way of the Mayans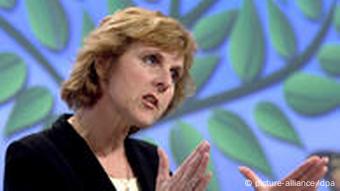 Hedegaard said the Cancun talks were crucial
Environmental organizations are also putting more pressure on world governments to work through the deadlock.
The environmental group Greenpeace floated a hot air balloon past the nearby Mayan ruins of Chichen Itza, in a symbolic gesture aimed at reminding delegates of the collapse of earlier advanced civilizations.
"For all their sophistication, the Mayans did not see their destruction coming. But we can see ours," the group said in a press release.
Development agency Oxfam also warned of the risks of inaction at this year's talks.
"The human impacts of climate change in 2010 send a powerful reminder why progress in Cancun is more urgent than ever," Oxfam's EU climate advisor Tim Gore said.
The issue of emissions cuts is also getting more targeted attention at the political level. The European Union has encouraged those countries with high greenhouse gas output to rein in emissions.
Despite political opposition in Congress, US President Barack Obama has said he will push toward his country's pledge to slash emissions over the next decade. The United States is the world's second-biggest emitter of greenhouse gases, behind China.
But China has not warmed to the prospect of binding emissions reduction targets - despite US calls that Beijing commit to cuts.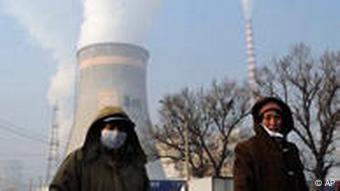 China emits the most greenhouse gases of any country worldwide
National leadership
Meanwhile, climate experts have called on government leaders to help move the process forward. Stefan Rahmstorf of the Potsdam Institute for Climate Impact Research pointed to German Chancellor Angela Merkel:
"In a situation like this, I believe that what's needed is strong leadership, especially from those who understand the problems and realize how urgent it is to act, and that this urgency increases with every passing year," he told Deutsche Welle.
But Merkel has been accused of weak leadership on the climate front by Germany's political opposition, with the Green Party's co-leader Renate Kuenast saying Merkel was "never a 'climate chancellor.'"
Still, members of Merkel's own conservative Christian Democrats are holding out hope that the talks in Cancun will yield concrete progress.
"Anyone who insists it's too late and nothing can be done needs to explain what the alternative is," the CDU's environmental spokesman Andreas Jung told Deutsche Welle.
"Personally, I believe there is no alternative to negotiations held under UN leadership – even if this is a slow process."
Author: Amanda Price, Axel Rowohlt (dpa, Reuters)
Editor: Nathan Witkop