The DAAD Artists-in-Berlin Program began in 1963 and is financed by the German Foreign Ministry and the city of Berlin. More than 1,000 artists have been awarded a grant through the program and were guests in Berlin – including Ingeborg Bachmann, John Cage, Jim Jarmusch, Gao Xingjian, Mario Vargas Llosa, Imre Kertész and Damien Hirst.
DW discussed the program with Silvia Fehrmann, who took on her role as head of the Artists-in-Berlin residency program of the German Academic Exchange Services (DAAD) beginning January 1, 2018.
DW: Ms. Fehrmann, the goal of the Artists-in-Berlin program is to transcend political and cultural boundaries and initiate a discourse – aesthetically and politically. How is this possible in a time of burgeoning nationalism and right-wing populist developments?
Silvia Fehrmann: The program is taking on a new meaning in the current context. It was created in the midst of the Cold War, conceptualized as a means of rejuvenating Berlin's cultural scene. At the heart of the Artists-in-Berlin program is the invitation to outstanding international artists to come to Berlin to think and create.
Over the course of time, the program has repeatedly set itself new tasks. After reunification, for example, the development of particularly Eastern European cultural productions was especially considered. As globalization has come about, there has been an increased focus on artists from the global South.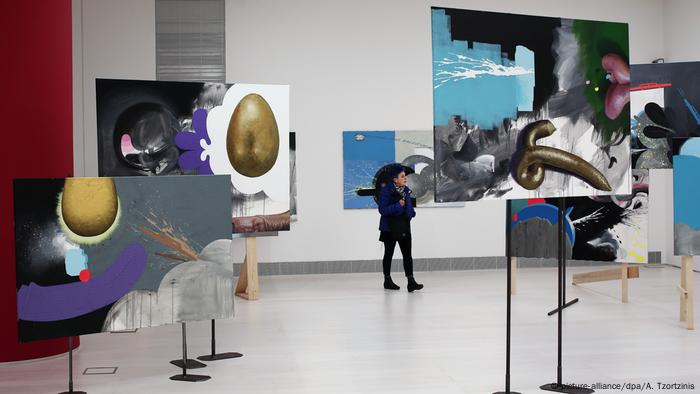 An exhibition at Documenta 14 in Athens featured work by 2018 grantee Ashley Hans Scheirl
From my view, today we are looking at a situation in which expectations for Germany are quite high, with Berlin being seen as a cosmopolitan, liberal-minded city in which a public discourse is possible. A place where artistic freedom and business is upheld. In that respect, the Artists-in-Berlin program is a significant tool for contributing to the international critical discourse.
How can the Artists-in-Berlin program counter neo-nationalism?
The international visionary artists who are invited can provide important perspectives. For example, when it comes to the pluralization of stories – there are many stories to tell, not just one. Even the past can be explained in different ways. Many of the artists who we invite work with archives; many authors or filmmakers contribute to refreshing historical narratives.
In the work of culture during the time of neo-nationalism, it is always important that a plurality of stories are made visible and to work against the notion that there are pure languages or a pure culture that has no foreign influences. A culture is always comprised of translation, of passing on, of mixing. Artists are thinking hard about how things could be different – and that just opens up an incredible freedom.
Read more: How artists in east Germany fight the rise of the far right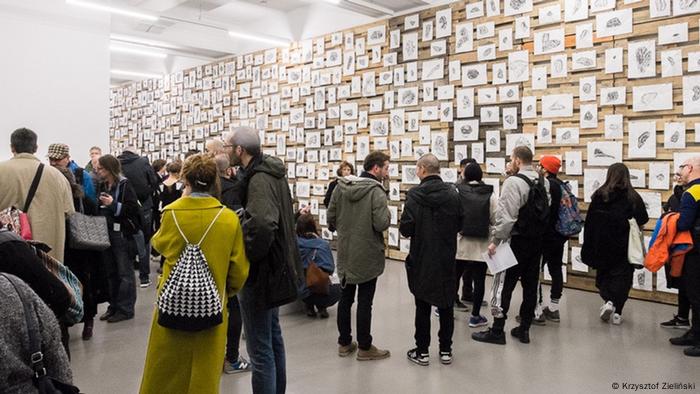 Former grantee Rayyane Tabet's work on display at the daadgalerie in Berlin
Where would you like the program to focus?
It is important to me to create a space for the pictures, the ideas, the stories that our guests bring with them to resonate, allowing Berlin's international community and the many artists and scientists who choose Berlin as a place of residence to come into conversation and engage with art, literature, music and film.
I am likewise very interested in seeing what is possible in the exchange between the arts and the sciences and how artistic practices are changing.
When looking at artists' biographies today, you see that many artists work between genres, that the boundaries between literature and film and music and visual art are repeatedly shifting. There are visual artists who see themselves as authors, musicians who tend to be performers, writers who also act as curators. And this change in artistic practices finds a great platform in Berlin, because there are many artists here and a very demanding audience that continues to follow how the arts develop.
Are there guests in Berlin as part of the 2018 program in whose work you can see this mixing of genres?
Yes. We invited, for example, the Argentine poet Sergio Raimondi, who has a highly political understanding of poetry and who also sees himself as a researcher. He is not only a lyricist but also a publisher, curator and the director of the port museum in his hometown, Bahía Blanca.
The Taiwanese musician Liping Ting, whose work ranges from dance, video art, photography, poetry and sound art is also a guest here.
The Bolivian composer Carlos Gutiérrez is an inventor of instruments, conductor, researcher of indigenous cultures and makes experimental music using autochthonous instruments.
Austrian artist Ashley Hans Scheirl teaches contextual painting at the university while at the same time providing a very important voice in Queer Cinema.
Ho Rui An, a visual artist and writer from Singapore, will also be a guest.
These intersections, these interconnections between contemporary art, music, theory and performance, are a recurring theme in the work of many contemporary artists, which is due to the fact that dealing with the complex present in which we live requires a multi-pronged approach.