A neon advertisement glows in the background of the Berlin night as the 30-something-year-old man with the impish smile and walrus mustache introduces himself to a German TV audience. "My name is Antonio Skarmeta. I am a writer. I left Chile in 1973 because of the coup against the democratic President Salvador Allende. Since then, my country has been under the control of a military dictatorship."
Antonio Skarmeta had already been living in West Berlin for eight years along with his wife and their two sons, ages 13 and 15, who had spent the majority of their lives here. They made their new home in the West Berlin neighborhood of Charlottenburg, a meeting point for the Chilean community in the 80s.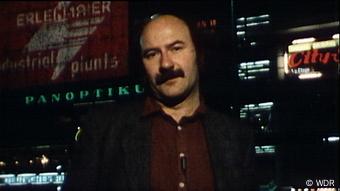 Young Skarmeta in his 1983 film, "If we lived together"
In the 1983 TV film "If We Lived Together," Skarmeta tells the German audience about his daily life, about the dreams and desires of exiled Chileans, about how difficult it is to find a job and a home. But he also speaks of group celebrations in the park with Chilean music and empanadas — joyful celebrations, yet full of longing for the distant homeland.
Around 5,000 Chileans like Skarmeta fled to the Federal Republic of Germany after the Chilean military putsch. Many thousands also headed to the communist German Democratic Republic, also known as East Germany.
On to the capital Santiago
Skarmeta was born on November 7, 1940 in Antofagasta — in the warmer region of northern Chile. It is called the "pearl of the Pacific." After primary school, which he partially attended in Argentina, he went to the Instituto Nacional in the Chilean capital, Santiago. It remains the country's most prestigious school for boys. It was an education for life.
"The school taught me what democracy means," Skarmeta told DW in an interview for the multimedia feature "After the Escape." "People from all different classes attended the school: the poor, the middle-class, the rich," the author said. "It taught me how to deal with people from all different backgrounds."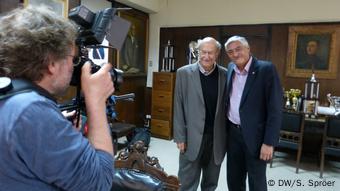 For the "After the Escape" project, Skarmeta returned to his old school in Santiago de Chile
After graduating, Skarmeta studied philosophy in Santiago. Garnering a renowned Fulbright scholarship, he moved to the United States in the mid-1960s with his wife, artist Cecilia Boisier. They had two sons and the writer published his first stories.
It was a success for the young man whose parents were European immigrants. Just before World War I broke out, they left their little Croatian island of Brac. It is a world Skarmeta passionately describes in his novel "The Poet's Wedding."
Chile's September 11
The sun was shining on September 11, 1973 when the radio announced that there was "rain over Santiago." Skarmeta was sitting in his office at the Universidad de Chile where he had meanwhile started teaching.
He became alarmed, because "rain over Santiago" was a code word for a military coup, which Democrats had feared for some while. It wouldn't have been the first: The military had already attempted one coup against Socialist President Salvador Allenda in June, but it failed.
It was different this time around. Soldiers occupied the parliament and shelled the radio broadcaster that had announced the code words. President Allende died the same day in the governmental palace "La Moneda."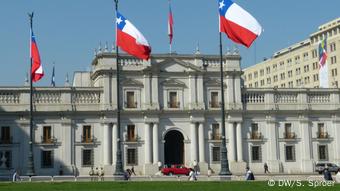 In 1973, the Chilean military bombarded La Moneda, the seat of the president
Gyms turned into concentration camps
Thousands of Chileans were arrested over the following days. Some were randomly picked up off the streets — because they had long hair or were dressed like hippies.
One of the cameramen of the special feature "After the Escape" will never forget how he too was detained back then, like thousands of others, in the "Estadio Nacional," Santiago's soccer stadium.
Several sports complexes were turned into coup leader Augusto Pinochet's concentration camps. Over 2,000 people died in the camps; more than 35,000 people suffered from torture and imprisonment. Over 1,000 remain missing today. They are known as "the disappeared."
As an avid supporter of President Salvador Allende, Skarmeta was also in danger. A German friend, director Peter Lilienthal, advised him to leave the country as soon as possible.
After spending a few months in Argentina, Skarmeta received a scholarship in 1974 from the DAAD, the German Academic Exchange Service, to go to Berlin. His family followed him there. "I left the country willingly," Skarmeta explained. "I was not tortured; I only lost my job. That's not much compared to what happened to other people."
A writer without his language?
Skarmeta could barely speak German when he came to Berlin. Both of his sons, ages seven and five when they arrived in Europe, picked up the language very quickly. "My older son would translate for me during conversations with others," Skarmeta recalled. "If someone was speaking really quickly on the telephone, I would hand over the phone to him and he would answer for me."
But Skarmeta was a writer. In exile, he lost his language and his readers. "I realized that it no longer made sense to communicate like I did with my Chilean readers — with all of the references to Chilean soccer players and film stars, or comments about streets and districts in Chilean cities. In other words, the things I had in common with Chileans."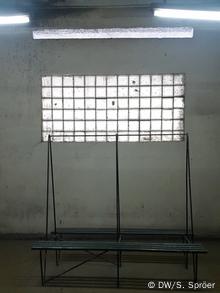 Hundreds of people were crowded into small locker rooms
People in exile — Skarmeta's subject
His novel "No pasó nada" (Nothing Happened) was published in 1978. In it, Skarmeta relates the story of a Chilean boy who has escaped into exile in Berlin with his family. Exile thus became one of Skarmeta's main subjects.
While in exile in Berlin, Skarmeta also wrote his most famous book, "Ardiente paciencia" (published as "The Postman" in English), which was turned into a film twice. It tells the story of a letter carrier who brings mail to Chile's most prestigious poet, Nobel laureate Pablo Neruda. The mailman learns from him how to use poetry to enamor his beloved.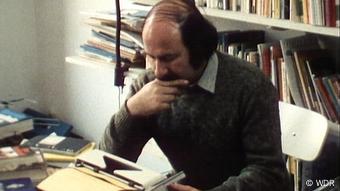 What is a writer without his language?
Skarmeta was in fact friends with Neruda, and both of them supported Socialist President Allende. The Nobel laureate died 12 days after the September 1973 military coup — supposedly of cancer.
Only recently was it confirmed that cancer was not the cause of death. For years now, there has been speculation that Neruda was actually poisoned. This is just one of the mysteries that has remained since the period of Pinochet's dictatorship.
Pinochet ousted
Augusto Pinochet was voted out of office in 1988. The film "NO," based on Antonio Skarmeta's stage play, tells the story. The first free elections following the dictatorship occurred in 1989, prompting Skarmeta to return to Chile after 16 years in exile. The writer later returned to Berlin, working as Chilean ambassador from 2000 to 2003.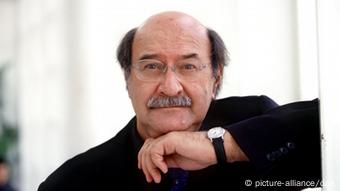 Antonio Skarmeta was Chilean ambassador to Germany for years
A family in two different worlds
Skarmeta once again lives in Santiage de Chile with his second wife, Nora Preperski, whom he met in Germany, and his youngest son. His two older sons stayed in Germany.
Escape and exile have enrooted his family in worlds far apart from one another — Europe and South America.
Asked if he finds the separation from his children and grandchildren difficult, Skarmeta aswered, "Not at all. What is difficult is living in a dictatorship like there was in Chile. When you live in a democratic country and know that your children are also living in a democracy, then your mind can be at rest."
Discover more about Antonion Skarmeta and other artists who had to find home in a foreign land in DW's online feature "After the Escape."
You can find the TV documentary "After the Escape" on YouTube.
Or watch it directly below: