The 16-person panel, coordinated by investigating judge Mario Carroza, did not confirm outright the suspicions that Pablo Neruda was murdered by the Pinochet regime in 1973. However, members confirmed finding traces of highly infectious bacteria in the poet's remains, which are still being examined to determine the bacteria's origin and its possible use as a weapon.
"We cannot determine that third parties effectively intervened, but we see a possibility that third parties did intervene," Carroza said Friday at a press conference in Santiago.
Chilean authorities exhumed Neruda in 2013 in order to investigate persistent rumors that the Nobel Prize-winning writer had been poisoned. Officially, the 69-year-old died of cachexia, which is the medical term for weakness and wasting of the body, brought about by his prostate cancer.
Read more: Is history being rewritten with Pablo Neruda?
On Friday, however, Spanish expert Aurelio Luna said he was "a hundred percent sure" that Neruda's death certificate "does not reflect the reality."
Though investigators had previously found lesions consistent with prostate cancer in Neruda's skeleton, the analysis of the data shows that he was not in a situation of "imminent death," Luna said.
Friend of Allende's
Neruda was a member of Chile's Communist Party and a friend to President Salvador Allende. In 1973, Allende was ousted by a US-backed coup, which put General Augusto Pinochet in power. Allende killed himself rather than be captured.
Neruda reportedly planned to leave Chile in the days following the coup despite having been diagnosed with prostate cancer. However, less than two weeks after the September 1973 takeover, he passed away in Santiago's Santa Maria Hospital.
Read more: Chile exhumes remains of poet Pablo Neruda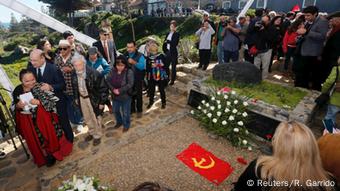 Neruda was reburied in 2016 next to his wife on the island of Isla Negra
Ever since, Neruda's chauffeur, Manuel Araya, has claimed that the author received a suspicious injection shortly before his death. Neruda's family and the Communist Party also claim that the poet had been poisoned.
No chemical poison
Murder of political opponents was not uncommon under Pinochet, whose regime eliminated about 3,200 opponents during the general's 17-year rule. Moreover, Allende's predecessor, former President Eduardo Frei Montalva, was poisoned after a hernia operation in 1982 while convalescing in the same Santa Maria clinic as Neruda nine years earlier.
After Neruda's exhumation, forensic experts initially looked for chemical agents in his remains. They found none, and the analysis was accepted as objective by Neruda's family and associates.
The inquiry now focuses on the traces of Staphylococcus aureus bacteria, which can be lethal. According to the team of experts, there is a possibility that the bacteria were cultivated in a laboratory. The results of the analysis are expected to arrive in six months to a year.
dj/rc (AP, AFP, Reuters, dpa)