Yesterday, he visited Uganda, today he's in Kigali: "It doesn't feel like Africa," is rapper Megaloh's first reaction. The Rwandan capital is oddly tidy; its modern buildings could be standing in just about any big city in the entire world. Additionally, plastic bags, street merchants, street shops and the carrying of goods on people's heads — all typically associated with East African cities — are all strictly forbidden here.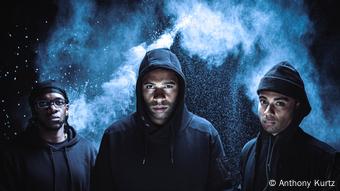 They make up the "Black Superman Group," or BSMG in short: Megaloh (center), accompanied by Musa (left) and Ghanaian Stallion (right)
'Black Superman Group'
Megaloh and his producer Ghanaian Stallion are currently on tour across Africa, with stops in Uganda, Rwanda, Zimbabwe, Kenya and the Democratic Republic of Congo. Part of the program organized by the Goethe-Institut are concerts and workshops with African musicians.
It's a perfect opportunity for the two of them to present and discuss their latest album entitled "Platz an der Sonne" (Place in the Sun). Produced in collaboration with Berliner rapper Musa, it was released under the band name BSMG, short for "Black Superman Group." The album, their most political work so far, includes an ode to the legendary Afro-American sprinter Jesse Owens and the hymn "Lang Lebe Afrika" (Long live Africa).
Read more: Marteria - a German rapper in Africa
'A life-changing experience'
Katharina Hey, head of Kigali's Goethe-Institut, chose Rwanda's only boarding school specialized in music for their workshop. The school is located at a three-hour driving distance from the capital.
The entire convoy drives out into the "land of a thousand hills," as Rwanda is often called. The trip, up and down the hills, leads through tiny villages, lavishly green tee plantations and dead volcanoes all the way to Lake Kivu at the country's western border.
The workshop held in the Nyundo School of Art and Music, the country's only educational institution for musicians, is "a life-changing experience," declares Megaloh on his way back to Kigali.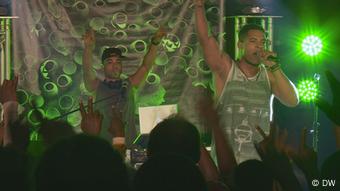 Ghanaian Stallion and Megaloh during their performance in Kigali
Musicians' struggle is universal
The school's 30 students, learning various instruments, song, musical theory and electronic music production, take a curious look at the German rapper as the workshop begins and everyone is a bit shy.
They seem to be quite surprised to hear about the difficulties faced by musicians in Germany — about having a hard time making ends meet while facing the disappointment of parents who didn't want their child to become a musician, for instance. Megaloh also discusses problems with production companies and the hardship of building up a public image.
The Rwandese music students struggle with similar problems; the atmosphere of the workshop warms up as they find out that a German musician shares their experiences.
Read more: Rap against racism: Samy Deluxe in "Afro.Germany"
Connecting through a 'freestyle jam'
The students introduce their self-produced beats and short raps to Megaloh. The group then spontaneously decides to record an improvised video of Megaloh's song "Long Live Africa!" in the courtyard. And that's when the party takes off.
The bass, drums and keyboard players provide the beats while other students start rapping, singing and dancing with growing enthusiasm. Finally, it's Megaloh's turn to show what he's capable of.
"My heart was throbbing because I knew quite well that this would be coming up," he recalls. "We rehearse our performances, we don't leave anything to chance. I didn't know these rhythms here. But then, I just allowed myself to flow with the Rwandese beat." At the climax of the jam session, Megaloh stands right in the middle of dancing and singing students, confidently rapping freestyle.
"That was exactly our goal. We didn't want these musicians from Germany to land and perform there like a UFO, but to communicate with the locals," says Katharina Hey. In her view, it was all worth the long drive.
Read more: Hausa hip-hop on the up and up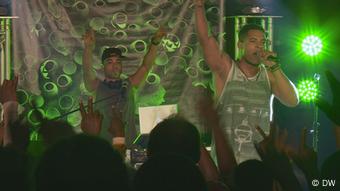 Ghanaian Stallion and Megaloh during their performance in Kigali
Kigali dancing and singing
On the next day's agenda is the concert in Kigali, an event that once again raises some insecurity. How long are they supposed to play? Wouldn't the audience get bored of 60 long minutes of hip-hop with German texts?
During the sound check, the large hall in one of the rather poor districts of Kigali is already crammed. Megaloh and Ghanaian Stallion perform as headliners while Rwandese rapper Angel Mutoni and a local hip-hop team open the show.
The audience warms up quickly to enthusiastically welcome the two Germans. Megaloh gives everything he's got. He briefly explains each song in English, and then takes off, leading the whole crowd to dance and sing. As an authentic and disciplined musician with over 20 years of experience on European hip-hop stages, Megaloh had no reason to be worried in the first place.
"After all, music is an international language," Megaloh says, laughing. He's soaked with sweat, but he's truly happy. Now he needs to prepare for the next morning, which will take him to the Zimbabwean capital, Harare.