There was a time, late last century, when a brave and free people in the north of Italy dreamed a great dream of a new nation. It was to be called Padania. Followers organized joyful rallies festooned with clover green uniforms and flags where they decried the waste of Rome.
Processions took place where sacred Po River baptismal water was carried to the new land's "capital" of Venice and legends from the heroic past were shared. Padanian ID cards were handed out. "Northern Bank" notes made a fluttering, fleeting appearance.
Some three decades later, as secessionist tensions erupt in Catalonia, the soaring dream of that folkloric Italian state has, well, not come fully crashing down but largely evaporated.
The party that drove it, the populist, anti-immigrant Lega Nord or Northern League, is instead proposing two modest, legal and nonbinding referendums in the wealthy regions of Lombardy and Veneto this Sunday.
There, they'll put to voters the question of whether they want regional representatives to negotiate with Rome for more autonomy and return on their taxes. As of 7 p.m., voter turnout in Lombardy was 30 percent, in Veneto it stood at 50.1 percent.
If Veneto Governor Roberto Zaia and Governor Roberto Maroni of Lombardy feel any solidarity with the plight of their confreres in Catalonia, it's hardly shone through.
"[Catalan leader Carles] Puigdemont lost an extraordinary chance. He stopped in the middle of the ford and no longer has the strength he had on the first day," said Maroni, adding that paradoxically, Milan now has a leg up on Barcelona in the cities' bid to become the new headquarters for the European Medicines Agency, poised to leave the UK after Brexit.
Using the referendums as an election platform
What the Italian referendums are really about, observers say, is political positioning ahead of crucial 2018 elections.
"The Northern League is looking to maximize their gains in the next national election," says Cristina Fusone, political science professor at Rome's LUISS-Guido Carli University. "We're witnessing a new geography of political forces in Italy [with the Five Star anti-politician movement] and the timing of the referendums reflects that."
For years, the Northern League was a small but critical member of former Prime Minister Silvio Berlusconi's center-right coalition. Berlusconi, who has re-emerged on the political scene after he was ousted in 2011 and found guilty of tax fraud, is still an unchallenged leader in his Forza Italia party and has backed Sunday's vote, promising greater regional autonomy as part of the election platform for the center-right.
The Democratic Party, even in the polls with the Five Stars and the center-right, opposes it.
"The first problem is that the referendum question is too vague," says Lorenzo Colovini, member of the Democratic Party and Gruppo 7 Luglio [a Democratic Party chapter in Venice — the ed.], which is urging people to boycott Sunday's Veneto referendum, where a 50-percent turnout is required.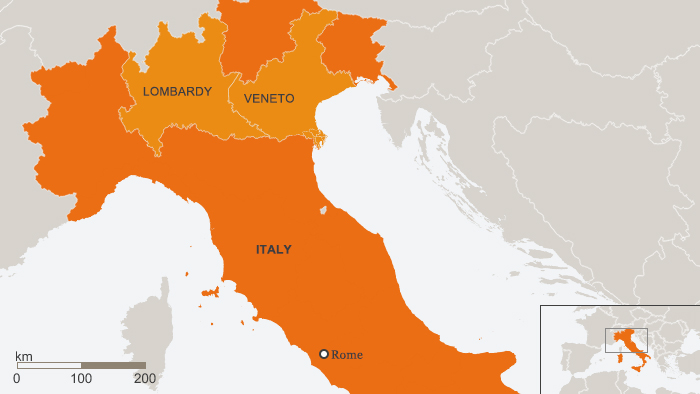 "If the referendum were really serious, they should have defined more precisely what more autonomy means. It's like a blank check. It's really just political propaganda for Governor Zaia," said Colovini.
But Cristina Fusone says this is only partially true.
Since 2001, Italian regions have had the constitutional right to request further autonomy, in everything from education to finance. However, the right to financial management was suddenly curtailed with the European financial crisis.
"The problem stems from the austerity measures introduced," she says. "Re-centralization of financial management has taken place and so this autonomy has been restricted. Every region is now bound to comply with balanced-budget rules."
It's a restriction that has rankled the wealthier northern regions, which glaringly outperform the underdeveloped southern Italy in all financial indicators.
North-South divide
Enzo Moavero Milanesi, law professor and former cabinet minister, says while a development and employment gap between the North and South remains, the resentment of the North toward the South is no longer what it was several decades ago.
"The main point is the correct administration," says Milanesi of the move for autonomy. "These two regions have been ruled by the Northern League for years and they are well-managed. There's a good health system, low unemployment rate; so the idea is to draw attention to how managed they are and how much better the country could be managed."
Like Fusone, he says the economic crisis in Europe has largely fueled the drive for more regional autonomy in Italy and elsewhere.
"It has led some to believe that more local autonomy might be a way to escape a political decision far away," he said. "But the real question is: What is local? Is a country local with respect to the EU? Is it a region? A town?"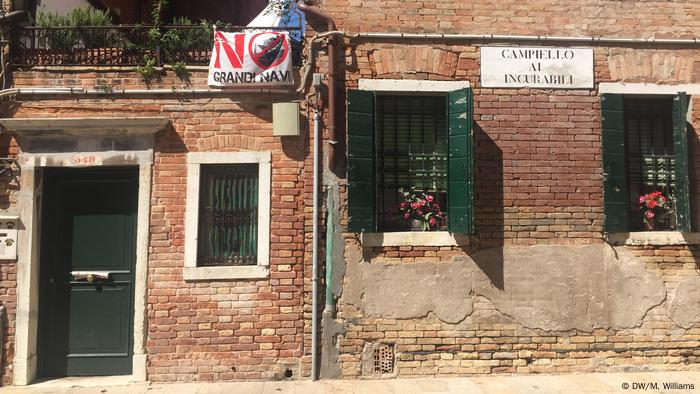 "No to cruise ships" poster in Venice, whose own referendum to separate from the mainland has yet to be approved
The question is hardly rhetorical. Alongside the issue of more regional autonomy in the Veneto referendum, another question was supposed to address whether the city of Venice should separate from the nearby mainland city of Mestre. Venetians in favor of the move say it would allow Venice to tackle the issue of mammoth cruise ships and tourism causing environmental harm to their harbor. But Italy's constitutional court has yet rule on whether the question of municipal separation is legal. Consequently, Governor Zaia excluded it from the ballot, to the bitter disappointment of many.
But it's a question that could well re-emerge — and not the only one.
"There are rumors about other regions, such as Emilia-Romagna, wanting autonomy," says Moavero Milanesi. "So the mosaic is quite colorful."
One hopes not quite as colorful as Catalonia.