Rosmah Mansor, the wife of former Malaysian Prime Minister Najib Razak, on Thursday pleaded not guilty to money laundering and tax evasion charges.
The first 12 charges related to deposits to a single bank account belonging to her from 2013-2017, totalling more than 7 million ringgit (€1.47 million, $1.68 million). Five further charges were for dodging taxes on the deposits.
In the charge sheets, prosecutors said Rosmah "engaged directly in a transaction that involves proceeds of unlawful activity" in violation of laws against money laundering.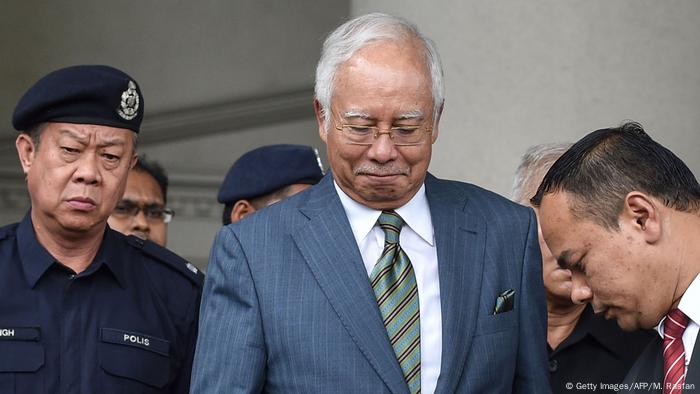 Najib Razak was Malaysia's prime minister from April 2009 until May 2018
Read more: What's next for Malaysia's disgraced ex-PM Najib Razak?
While the charge sheets didn't mention the Malaysian state fund 1MDB, which her husband's charges relate to, or where the allegedly illegal proceeds originated, Rosmah was arrested by the anti-graft agency Wednesday after being questioned for a third time over alleged theft and money laundering at the 1MDB fund.
Rosmah was allowed to post bail of 2 million ringgit but was ordered to surrender her passport and was banned from contacting any witnesses. Prosecutors had asked for bail of 10 million ringgit, citing the seriousness of the charges.
Rosmah's designer handbags, jewelery and other displays of wealth were heavily criticized ahead of last May's election, with many questioning where the money for her lavish lifestyle came from.
A family affair
Rosmah's husband, who is also out on bail, made a separate court appearance on the same day, in connection with some of the more than two dozen charges lodged against him.
Najib's charges are connected to 42 million Malaysian ringgit that was reportedly transferred into his personal bank account — a bribe that is suspected to have come from SRC International, a former subsidiary of the 1MBD state fund.
The multi-billion-dollar corruption scandal played a major part in Razak's shock defeat by 93-year-old Mahathir Mohamad in the country's general election in May.
Read more: Malaysia election: People were 'disgusted with government's corruption'
Following the election loss, a haul of cash, jewelery and hundreds of designer handbags worth up to $273 million was seized from properties linked to the couple in raids around Kuala Lumpur.
The case sparked outrage in Malaysia with thousands of people protesting against Najib while he was in office.
Prime Minister Mahathir Mohamad has launched a crackdown on corruption involving people in the previous government.
law/ng (AFP, AP, dpa, Reuters)