Korean Air's wealthy founding family on Monday faced renewed scrutiny about its conduct, after the wife of the chairman and CEO Cho Yang-ho was quizzed by police over allegations she physically and verbally assaulted employees.
Lee Myung-hee is accused of aggressive behavior towards drivers and housekeepers from her personal staff, as well as construction workers renovating her home.
The latest accusations follow incidents involving her two daughters, whose outbursts — dubbed the "nut rage" and "water rage" scandals — went viral.
Read more: South Korea's ex-President Park Geun-hye receives 24-year jail term
Workers physically attacked
The alleged abuses by the 69-year-old Lee range from cursing and screaming at workers to kicking, slapping and even throwing a pair of scissors at them.
As she arrived for questioning on Monday, Lee told reporters she was "sorry for causing troubles."
Local media reported that 10 former and current employees of Hanjin Group, the parent company of Korean Air, have complained of mistreatment.
Last month, a video emerged showing a woman, reported to be Lee, shoving a female construction worker and throwing a pile of documents on the ground.
South Korea's national carrier has been forced to apologize for the "immature" behavior of its wealthy owners on several previous occasions.
'Nut rage' saw plane ordered back to gate
In 2014, Lee's eldest daughter, Cho Hyun-ah, who was formerly the head of the airline's cabin service, received worldwide notoriety after an onboard tantrum which began when she was served macadamia nuts in a bag rather than a bowl.
Read more: Samsung heir walks free after court suspends jail term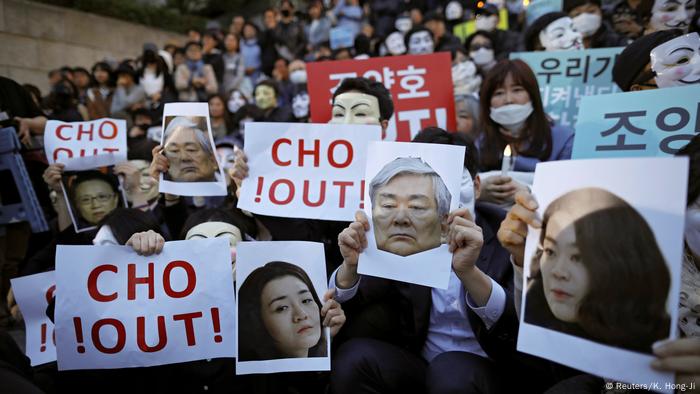 Korean Air staff have suspended their unswerving loyalty by calling for the ousting of the Cho dynasty
Cho forced two Korean Air flight attendants to kneel and beg for forgiveness, and then ordered the Seoul-bound flight back to the gate so one of them could be ejected.
She was sentenced to one year in prison for violating aviation law but was released early when a higher-level court suspended the sentence.
Earlier this year, her younger sister Cho Hyun-min was accused of throwing a drink at an advertising agency manager's face in a fit of rage during a business meeting.
Prosecutors stopped short of bringing charges after the victim reconciled with her.
Both daughters were removed from their management roles with Korean Air following the incidents.
Read more: US seeks arrest of former UN chief Ban's brother in bribery plot
Several investigations
As well as the abuse allegations, the Cho family is also under investigation over the alleged smuggling of furniture and food, tax evasion and hiring of illegal immigrants.
"Nut rage" daughter Cho Hyun-ah is being probed for allegedly hiring 10 housekeepers from the Philippines. She purportedly told authorities they were working for Korean Air.
The embarrassing incidents have led hundreds of Korean Air workers to hold weekly protests demanding that the Cho clan be dismissed.
The Hanjin Group — South Korea's 14th-largest business group — was founded by the current chairman's late father, Cho Choong Hoon. It runs logistics, transport and hotel businesses as well as Korean Air.
mm/msh (AFP, AP)
Each evening at 1830 UTC, DW's editors send out a selection of the day's hard news and quality feature journalism. You can sign up to receive it directly here.