Employees of Korea's flagship carrier Korean Air took the streets on Friday after police failed to secure an arrest warrant for Cho Hyun-min, daughter of company owner Cho Yang-ho, in the latest incident involving members of the Cho family and mistreatment of staff.
Many of around 400 protesters showed up in their work uniforms but also wore masks to avoid retribution by the management.
"There are many people from the company's HR team here to keep an eye on what we do and say," a masked Korean Air pilot told the AFP news agency.
He added that employees were "suffering from extreme stress."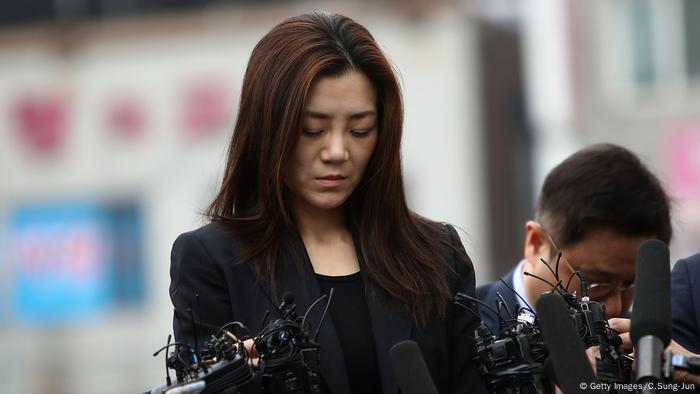 Cho Hyun-min resigned from her position at the airline after the 'water rage' incident
The last drop
Until recently, the 35-year-old Cho Hyun-min managed the company's marketing and advertising. Korean media reported last month that she grew angry during a meeting and threw a cup of water or fruit juice in the face of a business executive.
Faced with public outrage, she stepped down from her post and publically apologized for her behavior earlier this week. At the same time, however, Cho Hyun-min denied throwing the cup at the manager's face. A company representative previously told The Korea Times she was aiming at the floor instead.
Trouble at the top
The so-called "water rage" scandal follows a series of similar events where Cho family members allegedly hazed and verbally abused their employees. Most notably, Cho Hyun-min's older sister, Cho Hyun-ah forced two Korean Air attendants aboard an airliner to kneel and beg for forgiveness for serving her macadamia nuts in a bag instead of a bowl. During her 2014 "nut rage" tantrum, she also forced the pilot to return the already taxiing plane to the gate so one of the attendants could be forced from the plane.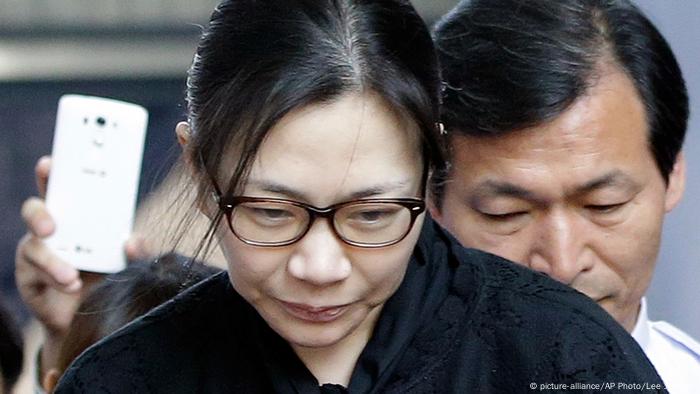 Cho Hyun-ah spent nearly five months in jail for violating airline safety laws, but was eventually acquitted
Police are also investigating the wife of Chairman Cho Yang-ho, Lee Myung-hee, who is the mother of the two sisters, on suspicion of verbally and physically abusing employees.
Read more: Korean Air chairman's daughter found guilty in 'nut rage' case
Last year, Chairman Cho Yang-ho himself faced accusations of embezzling company funds. However, prosecutors rejected a request for his arrest.
'Cho, you are fired'
On Friday, police said they were unable to obtain a warrant to detain the 35-year-old Cho Hyun-min in the "water rage" incident. Authorities previously said the woman was "denying her criminal actions," but "a review of the probe including testimonies by victims and witnesses as well as recorded audio files" points to the alleged crime of assault.
Read more: Airline 'nut rage' draws apology in South Korea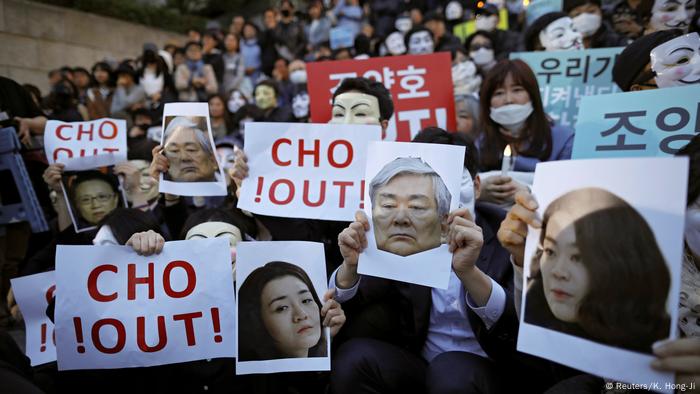 News of the failed arrest warrant fed the anger among employees on Friday, in a country where staff revolts against large companies are rare. The protesters chanted slogans like "Cho family must step down!" and waved banners reading "Cho, you are fired."
Many observers in South Korea view the Korean Air issues as part of a larger problem involving the young generation of the nation's superrich entrepreneur families.
dj/sms (AFP, AP, Reuters)