Ten years ago, the North Atlantic Treaty Organization (NATO) agreed to accept seven central and eastern European countries and in 2004 those new members officially joined the alliance. At the 2002 summit in Prague then-NATO Secretary General Lord George Robertson pointed out that the new expansion was not to be understood as being directed against Russia or any other country.
"NATO has never been an exclusive organization" he said. "From 12 original countries, we've enlarged successively to 14, then to 15, to 16 and then in 1990 to 19. And NATO's door is still open."
In 1999, Poland, the Czech Republic and Hungary were the first three former Warsaw Pact members to join the alliance. By then, the Warsaw Pact had, like its leader the Soviet Union, disappeared. "Back in the early 1990s we would never have dreamed of one day becoming a NATO member," Estonian Prime Minister Siim Kallas said at the Prague summit a decade ago.
The door remains open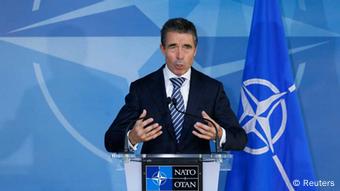 Rasmussen said NATO's door remains open
The 2008 summit in Bucharest once again confirmed what Robertson had said in 2002 - that NATO's door remained open. Only a few days ago, current Secretary General Anders Fogh Rasmussen said during a meeting with new Georgian Prime Minister Bidzina Ivanishvili in Brussels that back in 2008, the alliance had agreed to offer NATO membership also to Georgia and Ukraine.
Newly elected Ivanishvili said Georgia would do everything required for membership but also pointed out he wanted to improve relations with the Kremlin. Russia and Georgia fought a brief war four years ago over a rebel province seeking independence from Tbilisi.
No say for Russia
Russia has been critical of all NATO expansion since 1990. At the same time though, Moscow has entered a special partnership with the alliance with the creation of a special NATO-Russia Council. At the 2002 summit, then-German Chancellor Gerhard Schröder pointed out that "it is very important to say that his expansion is fairly and openly being discussed with Russia. I think that we've seen this in the past and will do so in the future as well."
But Russia does not have an actual say in that matter, said German parliamentarian Karl Lamers, currently president of the NATO Parliamentary Assembly.
"The relationship between NATO and Russia is marked by dialogue and transparency, but Russia does not co-determine policy. Quite on the contrary: We've seen in the past that Russia has again and again complained against the expansion. I'm thinking in particular about Estonia, Latvia and Lithuania," Lamers told DW, adding that Russia's objections did not halt the alliance's expansion.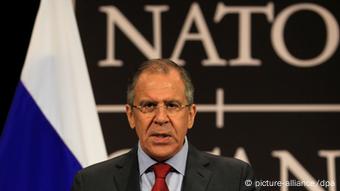 Russia's Foreign Minister Lavrov remains critical of NATO expansion
Larms said he believes Russia has to realize "that NATO is not directed against Russia but rather is a partner for security and stability in the world."
Ukraine no longer interested
In 2008, Ukraine was ambitious to join at some point. But since the election of pro-Russian Victor Yanukovych, the country has dropped its membership ambitions.
"Under the current president there's no perspective for joining NATO," Lamers explained.
But close cooperation would continue, Rasmussen said at the most recent official meeting with the Ukrainian government in spring 2012. Ukraine is, for instance, part of NATO led missions like the one in Afghanistan.
Three Balkan candidates
In spring 2009, Croatia and Albania had joined - long before a possible EU membership. The criteria for NATO are less strict than for the European Union, but prospective members do have to be stable democracies and have a civilian control over their military. Also, their military forces have to be somewhat on the level with standards of the alliance. Bosnia-Herzegovina, Montenegro and Macedonia are currently working towards achieving those standards. When exactly they will join though remains unclear.
"The decision when a state is accepted as a member depends on the progress that the country makes," Lamers explained. "They have to meet the values that NATO stands for. We'll then look at the progress and come to a decision. There's no fixed date for any of those countries."
Macedonia has fulfilled the requirements for years. But as NATO member Greece objects to Macedonia's name - as Greece has a province of the same name - and Athens has blocked membership for the former Yugoslav republic.
Ties to Serbia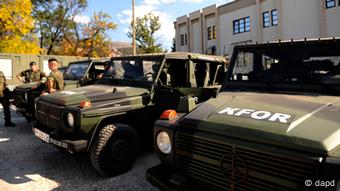 Kosovo still has NATO troops stationed on it's territory
In 1999, NATO fought a war against Serbia to protect people living in Kosovo which back then was still a part of Serbia. Relations between Belgrade and NATO are therefore still somewhat cool.
Unlike all its Balkan neighbors, Serbia does not want to join the alliance and Lamers said he believes there's no point in pushing Belgrade.
"One crucial condition is that the people actually want to join," he said. "That means that we have to have a majority in the population that actually wants NATO membership. And in the case of Serbia this will be a longer process."
NATO also does not accept any members who would bring unresolved territorial disputes into the alliance. That means that first of all, Serbia would have to normalize its ties with Kosovo. Currently, Belgrade does not yet recognize Pristina's independence and there still are NATO-led troops stationed in Kosovo.