No, there are no primaries in Germany. And Germans cannot elect the chancellor directly.
But regional elections for state parliaments serve as crucial indicators. And Sunday's vote in North Rhine-Westphalia, Germany's most populous state, had a special significance - especially now, four months before the general election in September.
Read: Merkel's CDU unseats ruling SPD in crucial German state election
Boost for Merkel's CDU
In this context Sunday's election outcome - the defeat of the Social Democrats (SPD), the victory of Merkel's Christian Democrats (CDU) - gives a boost to CDU chairperson and chancellor, Angela Merkel. And it's a huge boost.
North Rhine-Westphalia was the SPD's heartland, and the shift of power here counts more than anywhere else. The SPD held an absolute majority in this state for 15 years, from 1980 to 1995. Since 1966, the CDU has only managed to form a government for a single term, from 2005 to 2010. No wonder then, that German media are calling Sunday's victory a "political earthquake."
The CDU seems to be on the road to victory. Sunday's vote was the third regional election this year which the party managed to win: in Saarland, the CDU incumbent was re-elected, last weekend the SPD was defeated in Schleswig-Holstein and now the same has happened in North Rhine-Westphalia. There's a trend here, and some political observers are now saying that Merkel has essentially clinched September's general election.
Opinion: Time to risk something new
SPD on the defensive
When Merkel's challenger, Martin Schulz, was nominated as SPD party chairman and candidate for chancellor in January, it gave his party a surprising boost: a dramatic rise in opinion polls and thousands of new party members.
But this momentum seems to have fizzled out, and Schulz now seems to no longer pose a real threat to the chancellor.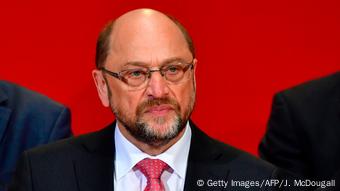 Schulz and the SPD strategy don't seem to be resonating with voters
Recent nationwide opinion polls have confirmed it: the SPD is again polling as they were before Schulz's nomination. That news has been painful to Schulz, who has admitted that he is no "magician." He has vowed to keep fighting, but is now facing an uphill battle.
So far, he has not revealed much of his strategy. His pet topic of "social justice" doesn't seem to be attracting much support. The issue of improved security, the CDU's campaign focus, seems to be resonating better with voters.
The recent regional elections have brought a veritable "CDU revival." The party had performed poorly on the state level in previous years, resulting in a loss of power for Merkel in the parliament's upper house, the Bundesrat. Merkel, as head of the CDU, was held responsible for this.
But Sunday's results show that not only did the CDU manage to lure voters away from other parties, they were also able to mobilize non-voters who had turned their backs on politics in recent years. Voter turnout in the recent state elections has been on the increase across the country.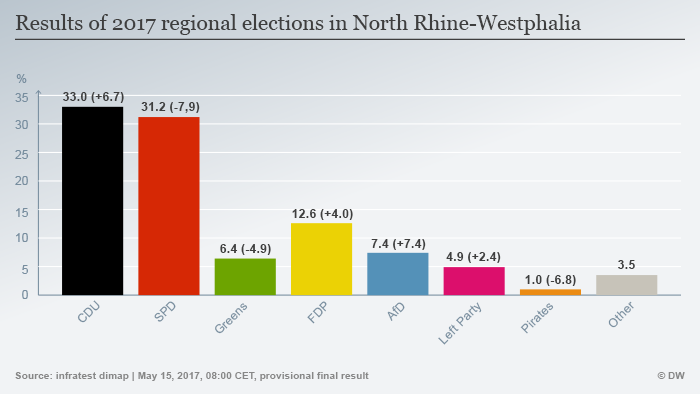 AfD losing momentum
Meanwhile, Germany's right-wing populists appear to be stagnating. While they managed to pass the 5-percent threshold needed for representation in parliament on Sunday, they didn't get much more of the vote.
Unlike elsewhere in Europe, they remain on the same level as the lesser parties like the Greens and the Left Party. Both the CDU and the SPD, on the other hand, are defending their status as Germany's major players, leaving Germany's political spectrum relatively stable.
But Sunday's outcome has paved the way for alternatives to the "grand coalition" of the SPD and CDU, currently ruling the country from Berlin. With the revival of the Free Democrats (FDP), the CDU's traditional coalition partner is making a comeback, meaning old and new combinations may become a real possibility for Germany's future.