The Polish Foreign Ministry said in a statement on its website on Monday that the changes Warsaw has implemented are "in line with European standards" and that it has created "the right conditions for a normal functioning" of the Constitutional Court.
Last December the European Commission gave Warsaw two months to implement measures to protect the powers of the court.
It is not immediately clear what has changed since then.
Critics argue actions undertaken by the rightwing Law and Justice (PiS) government since it came to power in October 2015 have in effect sidelined the country's highest court and allowed the government to push through a raft of often controversial legislation that might otherwise be subject to greater legislative scrutiny.
Last week rights groups including Amnesty International, Human Rights Watch, Reporters Without Borders, the International Federation for Human Rights (FIDH) and the Open Society European Policy Institute urged the EU to take enforcement action against Warsaw.
The unprecedented monitoring procedure that the Commission launched against Poland more than a year ago could end in Warsaw losing its voting rights in the 28-nation EU if all other EU leaders agree to it.
The Commission handed Poland a three-month deadline last July to reverse changes to the court or face sanctions. None were forthcoming.
Stigmatizing Warsaw?
Warsaw also accused Commission Vice-President Frans Timmermans of "stigmatizing" the Polish government.
"It is clear that the Commission cannot do it alone," Timmermans said in an interview on Saturday. "The member states and the Commission have to stick together. Everybody has to take their responsibility."
"Once again, Poland stressed that the existing political dispute around the principles of functioning of the Constitutional Court cannot be the basis for formulating the claim that there is a systemic threat to the rule of law," the ministry said.
"(Timmermans' call) on other member states to create a common front with the European Commission against Poland is a glaring example of violation of these rules," the ministry said.
Warsaw has said a dialogue between the Commission and a member country should be based on rules of respect for sovereignty, objectivity and national identity.
"We urge the Vice-President of the European Commission to stop such actions," the ministry said.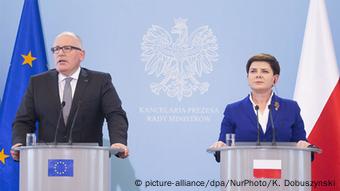 European Commission Vice President Frans Timmermans in Poland with Polish PM Beata Szydlo, May 2016
Commission response
A spokeswoman for the Commission said it had received the Polish response and would study it.
"The Commission is politically color blind when it comes to the rule of law," she said, adding that its concerns on Poland were shared by the European Parliament, the Council of Europe, the United Nations human rights body and other EU governments.
"When the rule of law in any member state is in question it is an issue for all member states," the spokeswoman said. "Such is the nature of being part of the EU."
jbh/jm (Reuters, AFP, AP)