In mid-March, Capetonians woke up to rain and rejoiced. But their joy was short-lived. The paltry precipitation wasn't enough to help the South African city, which is in the grip of a serious water crisis after months of drought.
After a year with no significant rainfall, water levels in the coastal city's dams are running alarmingly low at 17.3 percent usable water or enough for about 100 days, according to Mayor Patricia de Lille. That's bad news for a place almost wholly dependent on large storage dams for its water and one that is waiting on the winter rains to replenish them.
"It's increasingly unpredictable as to when that rain will fall," Kevin Winter, an environmental scientist at the University of Cape Town, told DW. "That's in line with some of the climate predictions that go back to at least 10 years ago: very uncertain weather variabilities, warmer and drier periods, followed by short periods of rainfall."
Saving water
If that rain doesn't come, Winter says nearby aquifers provide a small buffer but ultimately the city may have to resort to trucking water into neighborhoods. In the meantime, the mayor has declared the situation a local disaster and has introduced water restrictions to push Capetonians to use less than 30,000 liters of H20 a month.
Many, like Cape Talk radio host and father of two, Kieno Kammies are taking up the cause.
"This drought we have in Cape Town is something we need to take seriously," Kammies tells listeners of his popular morning show. "If you still want water to drink. If you still want to make your cup of tea, your cup of coffee, I think we need to encourage our neighbors, encourage our friends and our family not to misuse water."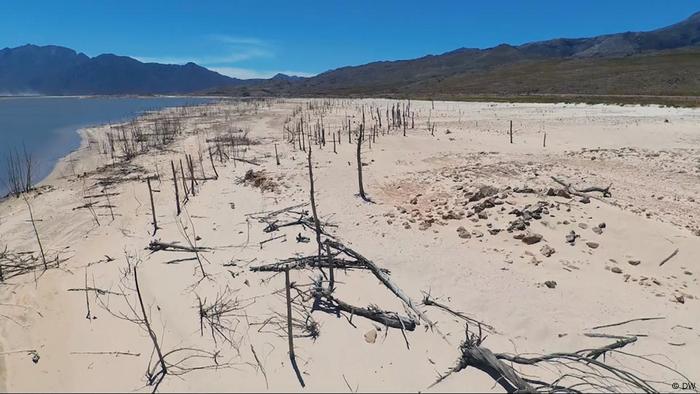 Water levels in Cape Town's main dams are running very low
Individuals across the city have adapted to the water shortage by reducing their consumption, for instance, by not watering their gardens. Large consumers, including businesses, are looking at simple ways to cut their water usage too.
The Townhouse Hotel in the center of the city is recycling shower water used by hotel guests. Over 100 rooms in the hotel have a bucket to collect the water as well as instructions on what to do with it. Staff use the collected liquid to water the gardens.
The inspiration for the initiative came to Townhouse general manager Jacqueline Williams when, on her drive home one day, she overheard someone on the radio mention she showered with a bucket to catch water she then used in her garden.
"My husband laughed when I asked him to buy me buckets, but two weeks later he commented on how much our family had been able to collect. That was when I thought about the impact we'd have if we involved the Townhouse Hotel guests and staff in a similar initiative," said Williams in a statement.
The hotel has managed to cut its water consumption by 20 percent and Williams says guests have embraced the program. "We've even had a few suggestions from guests on how to maximize our efforts," said Williams.
Catching water wasters
But not everyone is complying, says Xanthea Limberg, a member of Cape Town's mayoral committee for water and informal settlements. The authorities have been clamping down on the city's worst offenders by sending inspectors to see whether the reason for high water consumption is a leaky pipe, faulty meter, or a simple flouting of the restrictions.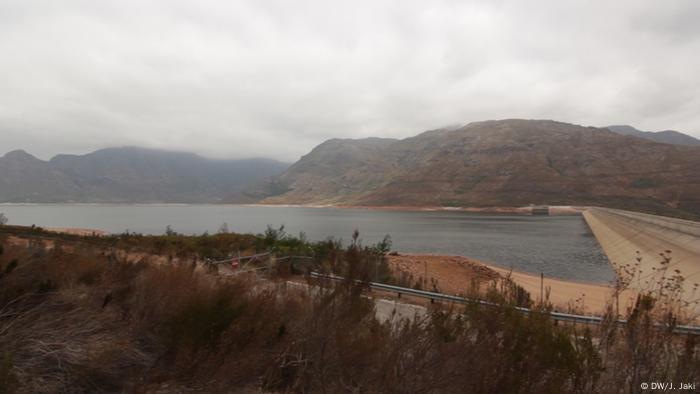 The Berg River Dam is one of the main reservoirs for the city of Cape Town
Those found to be ignoring the guidelines can expect penalties. "We've issued fines – over 300 in the last month. We've issued notices to appear in court and our new restrictions include that repeat offenders may even serve jail time and that's how serious we are about contraventions," said Limberg.
The Times of South Africa also reported that the city has proposed imposing a 19.25 percent tariff increase on water and sanitation services in the city. The increases would target those who have not complied with water restrictions and are using more than 50,000 liters a month.
Other emergency measures being considered include tapping unused aquifers and building a desalination plant to take advantage of the city's coastal location.
Slow reaction
Still, Kevin Winter believes the city's reaction to the crisis was too slow and that stringent water conservation should have come into force as early as October 2016 instead of January 2017. And, he says water restrictions and emergency measures, won't solve Cape Town's water supply problems in the future.
This is the third time since 2001 the area has experienced a drought, with the current one being the most severe. Planning for the future is essential, he told DW.
"This is a moment in which we transform the city of Cape Town into a water independent city and one that is also climate resilient," said Winter.
D. von Eisenhart-Rothe and Ruth Krause contributed to this report.