Polling stations in the German state of North Rhine-Westphalia (NRW) opened Sunday morning in a state election widely seen as a referendum on Chancellor Angela Merkel's six-month-old government.
Merkel's conservative Christian Democrats (CDU) and coalition partner the Free Democrats (FDP) must hold onto power in Germany's most populous state in order to maintain a majority in the upper house of parliament, the Bundesrat.
A defeat for the parties in the state, where they have also ruled in a center-right coalition since 2005, would end their majority and lead to delays in delivering tax cuts and implementing other policies agreed to after last September's federal election.
Recent opinion polls suggest the CDU and the FDP lack the necessary support needed to maintain their majority.
The election comes just days after the German parliament approved a 22.4-billion-euro ($28.6 billion) emergency bailout for debt-stricken Greece, a move that has proved deeply unpopular with voters.
In a poll published on Saturday, 21 percent of NRW voters said the Greek bailout would affect their ballot decision, according to the YouGov survey for German daily Bild.
SPD looks to regain control
"The issue has electrified people as seldom before and is going to play a determining role in the election," said Klaus-Peter Schoeppner, head of the polling institute Emnid, in the online edition of the Rheinische Post.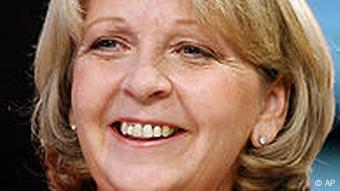 SPD leader Hannelore Kraft hopes to regain control of the state

The rival Social Democrats (SPD), who held power for four decades until being ousted in 2005, are looking to regain control in the influential state, home to 13.5 million eligible voters.
The SPD abstained in Friday's vote on the Greek aid package, a tactical move that analysts say could give them the edge. Current polls suggest that the SPD and their preferred partners, the Greens, have the support of between 45 and 47 percent of voters. Current predictions estimate the CDU-FDP block winning 43 to 45 percent of the vote.
"If the CDU loses its majority with the FDP, which is to be expected, it would not be a catastrophe but it would certainly make things more complicated and difficult for the chancellor," said Gerd Langguth, a political scientist at the University of Bonn and biographer of Merkel.
cmk/AFP/Reuters
Editor: Kyle James