Russian Deputy Prime Minister Vitaly Mutko said he was temporarily stepping down from his post as the head of Russia's RFS football federation on Monday.
Mutko's announcement comes after he was banned for life from the Olympics this month by the International Olympic Committee (IOC) over allegations that Russia created a state-sponsored doping program.
He said his decision to temporarily leave his football post was so that he could appeal the decision to the Court of Arbitration of Sport (CAS).
Read more: Vladimir Putin: 'Russia will not boycott Winter Olympic Games'
"For the period of the proceedings I will suspend my work at the Russian Football Union for six months," Mutko was quoted as saying by Russian news agencies.
RFS Director General Alexander Alayev has reportedly been appointed acting president in Mutko's absence.
FIFA thanked Mutko for what it called a "responsible step ... taken in the best interest of the FIFA World Cup next summer."
Mutko will remain chief of the 2018 World Cup organizing committee as well as his job as deputy prime minister overseeing sports.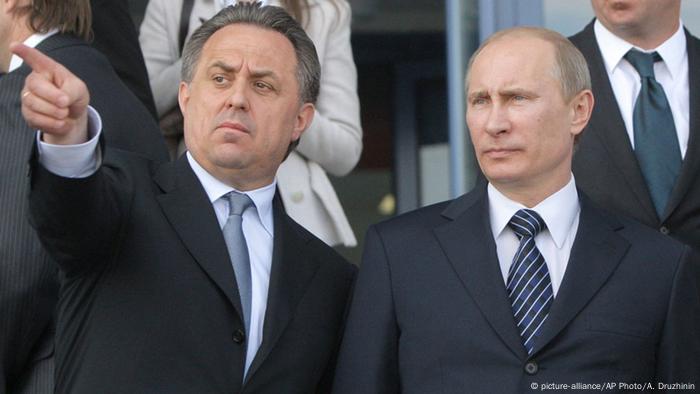 Putin and Mutko have worked together since the early 1990s
Doping scandal allegations
Investigations by the IOC and the World Anti-Doping Agency implicated Mutko in a state-sponsored doping program during the 2014 Winter Games in Sochi, Russia. The IOC didn't accuse Mutko of personal involvement in the doping program, but said that since he was Russia's sports minister at the time, he and his ministry bore responsibility.
Reports recently suggested that the state-sponsored doping program in Russia also included the country's team for the 2014 World Cup.
Mutko later denied those reports, saying that Russia would defend its athletes "to the last bullet."
The country was banned from the 2018 Winter Olympics, but any Russian athletes who can demonstrate a clean doping history will be allowed to compete as neutrals.
Deputy Prime Minister Mutko, appointed a member of FIFA's executive committee in 2009 but barred from the group earlier in 2017, hails from St. Petersburg like President Vladimir Putin; the two worked together on the 1994 Goodwill Games. The 59-year-old is also a former president of Zenit St. Petersburg football club.
rs, ftm/msh (AP, AFP, dpa)