Protests in the island's south turned violent on Saturday as the Sri Lankan prime minister met with the Chinese ambassador to inaugurate a new industrial zone.
At least 21 people were hospitalized after hundreds of demonstrators marched to the site near the port city of Hambantota, sparking clashes with government supporters and police.
The demonstrators were protesting against a new agreement with Beijing that Sri Lanka is hoping will attract billions of dollars in investment over the coming decades. The two governments have already signed a framework agreement for a state-owned Chinese company to lease the Hambantota port. Sri Lanka also plans to set up a new industrial zone in the area to attract Chinese companies in the hopes of generating more jobs.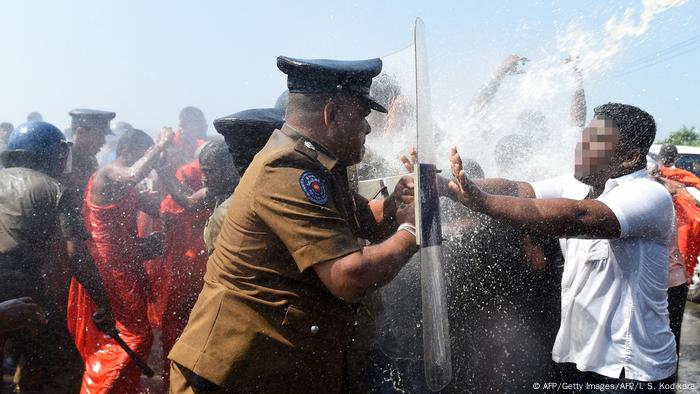 At least 21 people were injured in the clashes
But local villagers fear the agreement is a plan to take away their private land. The government has denied the accusations, insisting that the majority of the land put aside for the industrial zone is state-owned and that the rest will be bought from landowners.
Violence breaks out
They have also argued the deal was necessary to save the loss-making $1.4 billion harbor, which Prime Minister Ranil Wickremesinghe said was going to "sink" Sri Lanka.
Led by Buddhist monks, protesters marched toward the site where Wickremesinghe was meeting with Chinese Ambassador Yi Xianliang to officially launch the new zone. Violence started when government supporters began hurling stones at the demonstrators, who then responded in kind.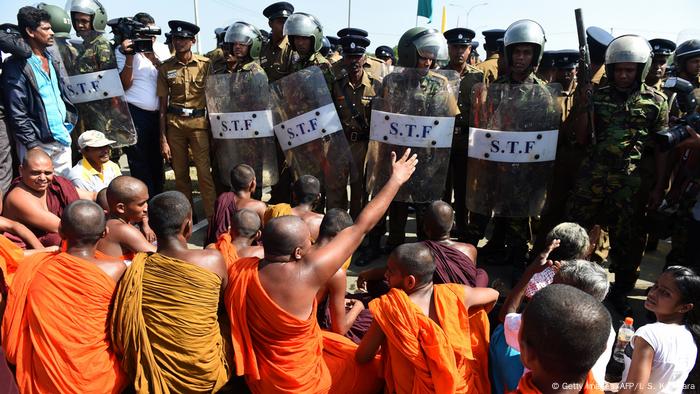 Buddhist monks led the protests against the new industrial zone
The protesters were defying a court ruling that had put a restraining order on the demonstration, saying it would cause unrest. As violence broke out, police used tear gas and water cannon on the protestors.
The two governments are hoping to sign a 99-year lease of the port. Xianliang said the nearby zone could generate about $5 billion of investment in the next two to five years.
blc/se (AP, AFP)