A Berlin court on Wednesday found a Vietnamese national guilty of helping his country's intelligence service abduct a former executive and smuggle him back to Vietnam.
The suspect, identified by German authorities as Long N.H., had confessed last week to his involvement in the Cold War-style kidnapping. He was handed a relatively mild sentence of three years and 10 months after cooperating with the court.
"The accused knew of the plans of the Vietnamese secret service, but did not belong to the top level of command," the judges said in their verdict.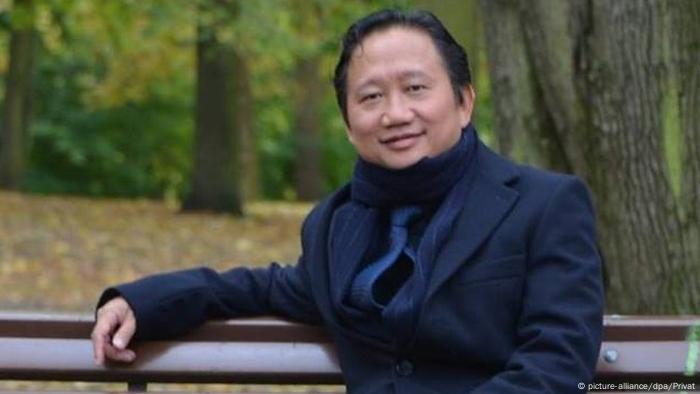 Trinh Xuan Tanh, pictured here in Berlin, was seeking political asylum in Germany at the time of his kidnapping
Long N.H., who has dual Czech-Vietnamese citizenship, admitted that he had rented the van used in the kidnapping of Trinh Xuan Thanh, the former head of Vietnam's state-run oil firm PetroVietnam Construction. Thanh, a former Communist party official, had been seeking political asylum in Germany at the time.
He was walking with a female companion in Berlin's Tiergarten park last July when the pair were dragged into the van in broad daylight. They were spirited back to Hanoi, where Thanh faced corruption charges.
The German government described the episode as a "scandalous violation" of its sovereignty and breach of international law. Thanh's German lawyer Petra Schlagenhauf said the kidnapping was "like a story from the Cold War."
However, Vietnam's ruling Communist party has insisted that Thanh returned to Hanoi voluntarily to face charges. He has since been sentenced to two life terms, as part of the Vietnamese government's anti-corruption drive targeting over 100 people.
What we know about Long N.H. and Thanh's kidnapping
Long N.H., 47, was reportedly one of several thousand guest workers sent by Vietnam to communist East Germany back in the 1980s.
After being denied asylum there, he resettled in Prague, where he went on to claim Czech citizenship.
He was arrested by Czech authorities after the German government put out a warrant for his arrest for his role in the kidnapping. He was extradited to Berlin a couple of days later.
Read more: Berlin bloggers fear the long arm of Hanoi
Long N.H. admitted to renting the van used in the kidnapping in Prague and driving it to Berlin. However, he maintained that he was not behind the wheel during the abduction. He later drove the van back to Prague.
While it remains unclear how the kidnappers smuggled Thanh out of Germany, prosecutors believe he was driven to the Slovakian capital of Bratislava and then flown out to Hanoi.
According to German media, the Slovakian government lent a plane to a visiting Vietnamese delegation at the time of the kidnapping. However, Bratislava insists that it noticed nothing suspicious about the delegation, but has warned Hanoi of harsh consequences should the allegations prove to be true.
Every evening at 1830 UTC, DW's editors send out a selection of the day's hard news and quality feature journalism. You can sign up to receive it directly here.
dm/rt (dpa, AFP, Reuters)