Lawyers have begun arguing the case of Long N. H., a man accused of being involved in the spectacular daylight abduction in Berlin of an enemy of the current leadership of the Communist Party of Vietnam (CPV).
Prosecutors say Long, a Vietnamese resident of Prague, procured the vehicles used to kidnap businessman and former CPV functionary Trinh Xuan Thanh last summer. Trinh was taken first to Vietnam's embassy in Berlin and then to Vietnam itself, where he was convicted of corruption and given two life sentences.
Vietnam's government reported that Trinh had turned himself in, but his attorney said he was kidnapped by Long and other Vietnamese intelligence agents.
"If you know the official case file, there's no disputing that this was an intelligence service operation," attorney Petra Schlagenhauf told DW. "I am sure the operation was ordered from the top at the behest of the leaders of the Communist Party."
Read more: Berlin bloggers fear the long arm of Hanoi
Trinh fled Vietnam for Germany in mid-2016. Schlagenhauf, who has been denied any access to her client in Vietnam, said he had become the victim of politics.
"This is related to a story within the leadership of the Vietnamese Communist Party, in which a pro-China faction has asserted itself at the expense of a pro-Western economic one, combined with a personal struggle for power," Schlagenhauf said.
Defense acknowledges abduction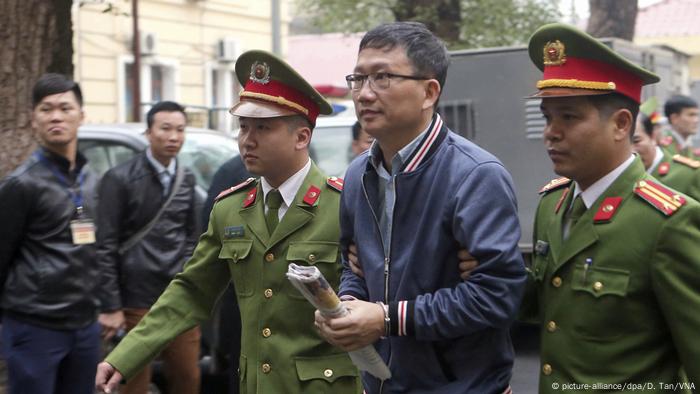 Vietnam's government claims that Trinh embezzled funds as a Communist Party official
Long is being charged with espionage and kidnapping. His lawyer, Stephan Bonell, acknowledges that an abduction took place but said Long wasn't involved. He also argues that the whole affair could have been avoided had the German government acted upon an international arrest warrant issued on behalf of Vietnam.
"The German government and the German chancellor didn't do enough in this case," Bonell told reporters outside the courtroom. "There was an international arrest warrant. They should have looked at whether it was justified."
Read more: Germany expels second Vietnamese diplomat for involvement in alleged kidnapping
Schlagenhauf countered that Trinh has received political asylum in Germany, and said a political solution could be necessary.
"My client would be allowed to enter Germany at any time: The German government has granted him a visa according to the Geneva Convention," Schlagenhauf said. "I never made the imaginative leap that he could be kidnapped."
Germany's Foreign Ministry has called Trinh's abduction "a blatant violation of international law." Schlagenhauf characterized it as "like something from the Cold War."
A brazen operation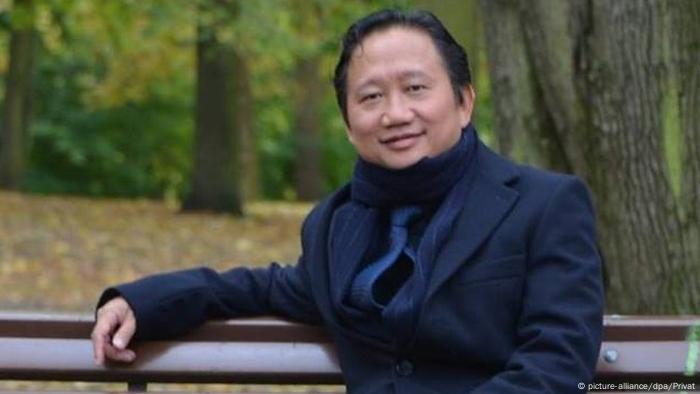 The German government has already decided that Trinh deserves political asylum
From 1945 to 1989, Berlin had the reputation of being the "city of spies," but many people assume that espionage died down with the end of the Cold War. They're wrong. Observers say there's more spying than ever before in the German capital.
"Political Berlin — between the Reichstag, the embassies, the Chancellery and the government ministries — is concentrated within a relatively small radius and brings together the most important targets for intelligence services," Christopher Nehring, director of research at the German Spy Museum Berlin, told DW. "Meanwhile, Germany's political weight in Europe and the world has increased in recent years ... so Germany has become more important for intelligence services."
Nehring said Trinh's kidnapping had the hallmarks of a state operation in which the target was carefully watched and then snatched when the moment was ripe.
"The speed with which he was abducted and brought to Vietnam suggests detailed planning," Nehring said. "But the operation — a kidnapping in broad delight in a heavily frequented place in a faraway country that quickly became public — is very brazen. A diplomatic row was simply accepted. Someone wanted him at all costs."
The court will spend the weeks and perhaps months to come ascertaining the details of the abduction, while German diplomats will press Hanoi to end the affair by freeing Trinh. Germany has already ended a strategic partnership with Vietnam following the kidnapping. A Cold War-style espionage operation has put a major chill on relations between the two countries.
Every evening at 1830 UTC, DW's editors send out a selection of the day's news and features. You can sign up to receive it here.