A powerful magnitude 7.3 earthquake hit the coast of Venezuela on Tuesday, forcing people to evacuate their homes and offices as far away as the capital, Caracas.
The US Geological Survey reported that Tuesday's quake had a depth of 76 miles (123 kilometers) and its epicenter was about 12 miles (20 kilometers) northwest of the Venezuelan city of Yaguaraparo.
The US Pacific Tsunami Warning Center warned that the deep earthquake could lead to small tsunami waves along the country's coastline.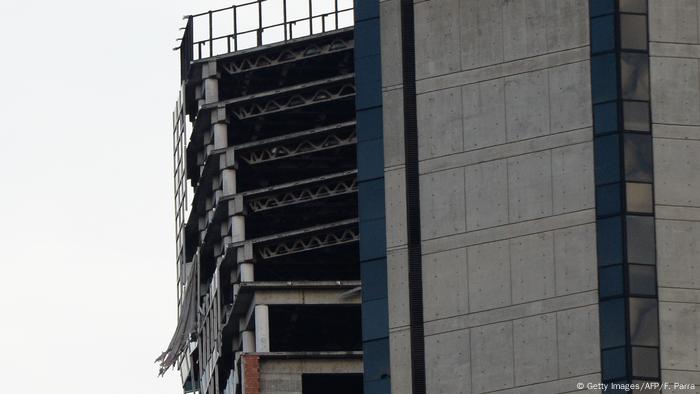 The abandoned Torre de David skyscraper in Caracas suffered notable damage in Tuesday's quake
It remains unclear just how much damage was caused by the earthquake.
A witness in Cumana, one of the biggest cities near the quake's epicenter, said several people were injured in a shopping center when an escalator collapsed, although there appeared to be no immediate signs of further damage in the vicinity.
It is thought that the quake occurred deep enough below ground to have dampened most of the shaking. Nevertheless, reports suggest that the rumbles were also felt as far away as the Colombian capital, Bogota, in the east and the nearby islands of Trinidad and Tobago and St. Lucia to the northwest.
Local television also captured how the quake interrupted Diosdado Cabello, the head of Venezuela's all-powerful Constituent Assembly in Caracas, as he was delivering a speech.
The strong tremors also briefly halted a pro-government rally in the capital in support of a series economic measures introduced on Monday by President Nicolas Maduro.
"I'm relieved that it doesn't seem like damage was that bad," telemarketing worker Sheny Fuentes told the Reuters news agency. "We would have been even more affected (given Venezuela's economic crisis) — there are already people eating from the garbage and buildings aren't well made."
Every evening at 1830 UTC, DW's editors send out a selection of the day's hard news and quality feature journalism. You can sign up to receive it directly here.
dm/rc (Reuters, AFP, AP, dpa)