The manuscript's value was originally estimated at between 1.5 and 2.5 million pounds (between 2 and 3.3 million dollars). At the auction on Wednesday (13.07.2016) in London, the final bid came in at the high end of expectations.
Likely written between 1740 and 1745, the Prelude, Fugue and Allegro in E-flat Major (BWV 998) is a favorite among both harpsichords and lutenists. Like many works by Johann Sebastian Bach (1685-1750), it can be played on different instruments, which is expressly indicated on this score in the composer's handwriting: "Prelude pour la Luth ò Cembal" (for lute or keyboard).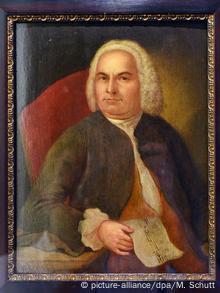 A likeness of the composer at the Bach museum in Eisenach
Before the auction, the privately-owned score, not having changed hands or been seen in public since 1969, was exhibited in Hamburg, Munich, Dusseldorf and Stuttgart, then making its way to showings in New York and Japan.
Like a painting
Viewing it was described by Chantal Nastasi, culture reporter with German public broadcaster NDR, as a "special moment." She described the paper as "yellowed, almost browned."
Hans-Christoph Rademann, director of the International Bach Academy in Stuttgart, described having inspected the manuscript as "an experience comparable to seeing a painting in the original" and suggested that the clarity of the handwriting indicates Bach probably penned the composition in a single setting.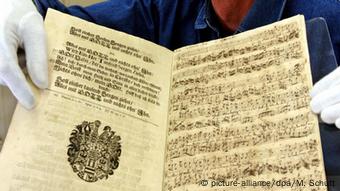 Who knows how much it will be worth the next time it changes hands?
Thomas Venning, manuscript expert for Christie's, described Bach's handwriting on the score as "very flowing and graceful." Noting that paper was expensive in Bach's time, he explained that the paper used in this particular manuscript was of unusually high quality, and that only one other piece is known for which Bach used paper from the same factory.
Precious few comparable manuscripts
Only a portion of Bach's works exist in complete autographs - original manuscripts in the composer's own handwriting. Few were published during his lifetime. Some original scores are fragmentary, were handed down in copies made by other musicians or exist in part-books in Bach's handwriting for individual voices or instruments.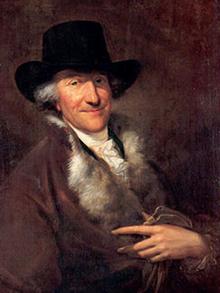 Wilhelm Friedemann was himself a composer
According to Christie's, less than 10 complete autograph scores by Bach are currently privately owned, including two instrumental works and six cantatas. The vast majority - roughly 95 percent - exist in publically accessible libraries. A number of them can be viewed on the Bach digital website of the Bach Archive in Leipzig.
Johann Sebastian Bach bequeathed his original manuscripts to his widow and children. His oldest son, Wilhelm Friedemann Bach, sold some to pay debts. For this and other reasons, a number of Bach's works remain lost.
Also auctioned off at Christie's on Wednesday was the "Hortus Eystettensis," a botanical encyclopedia dating from 1613. The work by Basilius Basler, an apothecary and copper engraver from Nuremberg, includes 366 hand-colored printings.