Ten UN Security Council members voted in favor of Kuwait's resolution, which "deplores" and calls for a stop to "excessive, disproportionate and indiscriminate force" by Israeli forces against Palestinian civilians.
But, as expected, the US used its veto against the motion, saying it was a "grossly one-sided view" that did not blame the militant group Hamas for recent violence. A US resolution condemning Hamas failed to win support, as 11 countries abstained and Russia opposed it.
France voted in favor of Kuwait's text, but there were four abstentions, including the UK. To succeed, a resolution needs nine votes in favor and no vetoes by permanent members United States, Britain, France, Russia or China.
French Ambassador Francois Delattre criticized the "disproportionate use of force" by Israel, while Kuwait's representative, Mansour Ayyad Al-Otaibi, condemned the use of violence "by all sides."
Kuwait holds a nonpermanent seat on the council for this term. Its resolution had initially called for an international protection mission for Palestinians, but this was dropped in favor of just condemning Israel's use of force against civilians — which also failed.
The recent violence is the most serious escalation between Israel and militant groups since 2014, with hundreds of mortar and rockets fired into Israel and Israeli airstrikes on targets in Gaza.
Deadly border protests
The vote came on a day of further protests by Palestinians against Israel's blockade on the Gaza border.
Palestinian nurse Razan Al-Najar, a 21-year-old wearing the white uniform of a paramedic, was shot dead by Israeli forces as she tried to help a wounded protester at the border on Friday. A witness told Reuters: "She raised her hands high in a clear way, but Israeli soldiers fired and she was hit in the chest."
Israel said militants had attacked its troops with gunfire and a grenade. Medical officials in Gaza said at least 100 Palestinians were wounded by Israeli army gunfire during Friday's demonstrations.
There have been no Israeli casualties during the border confrontations, which began in March. In the protests, billed as the "Great March of Return," Palestinians have been calling for the right to return to lands lost to Israel during the 1948 war that followed the country's declaration of independence. Israel has called the protests an attempt to breach its border and distract from Hamas' governance problems.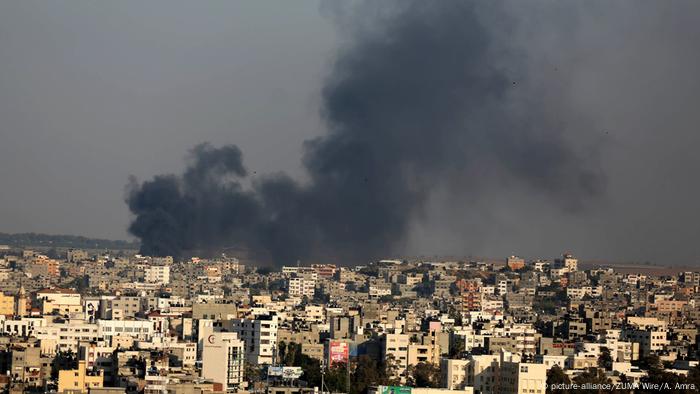 Smoke rises over Gaza City following an Israeli airstrike on Tuesday
Gaza: 'Rapid collapse in humanitarian conditions'
Tuesday is the anniversary of the end of the Six-Day War, when Israeli forces occupied the Gaza Strip, the Sinai Peninsula of Egypt, Syria's Golan Heights, the Jordanian-controlled West Bank and the Arab sector of east Jerusalem in 1967.
Though Israel left Gaza in 2005, it has maintained a strict blockade and an armed border. Only a small number of people are able to move outside of Gaza, and it has become an increasingly impoverished enclave.
In an economic review from April, the World Bank reported "a rapid collapse in humanitarian conditions, including access to medical treatment, electricity and clean water. Unemployment is high at 27 percent. Only 41 percent of those ages 15 to 29 are active in the labor market."
jm/cmk (Reuters, EFE)
Each evening at 1830 UTC, DW's editors send out a selection of the day's hard news and quality feature journalism. You can sign up to receive it directly here.