When members of the US military in Germany want help organizing a little R&R off base, one place they often go is RTT Destinations Unlimited, a travel agency headquartered at the Ramstein Air Force base in southwestern Germany. However, if the Bush administration moves forward with its troop redeployment plans, about half of those soldiers stationed in Germany could be leaving.
"If they pull out, it would certainly hit us," Gisela Paulus, RTT's manager, told DW-WORLD. "But it would even be worse for the smaller bus companies who serve other smaller bases around Germany. They would see their numbers cut drastically."
Monday's announcement by US President George W. Bush that large numbers of troops will be possibly withdrawn from Europe over the next five to six years has serious ramifications for the economies of some German regions around American bases.
The Bush administration has said it is not "punishing" Germany for its continued opposition to the US invasion of Iraq, rather it wants to restructure its troop deployment to meet 21st century needs, such as the new threats posed by international terrorism. The current US alignment here is better equipped to fend off a Soviet tank attack.
US soldiers in the Iraq
It is estimated that up to one-half of the 71,000 troops currently in Germany could be sent home or redeployed to bases in southern or southeastern Europe, closer to hotspots in the Middle East. Thousands of military support staff and military families are expected to pack their bags as well.
"That has all kinds of repercussions, especially for the economy" Dennis Phelps of the American-German Business Club told DW-WORLD. "There is a whole American infrastructure here -- American houses, American schools -- when the military pulls out, these things close. It also means that soldiers are spending money in local shops or paying local landlords rents."
Long, strong history
Since the US entered the country during World War II, it has been a steady, and mostly appreciated presence in Germany. After the surrender of the Nazis, GIs were welcomed by many as liberators. As the Cold War began heating up, more and more US troops were stationed in Germany, mostly in the south and southwest of the country.
During the 1950s and 1960s, the United States had a presence in more than 500 cities and towns throughout Germany, according to Phelps. Since 1945, some 17 million Americans have served tours of duty in Germany.
The long residency has left its stamp, not to mention on those communities with weak industrial bases, for which the nearby US military has become an essential economic engine.
The district of Birkenfeld is one such area that could be hit hard. Up to 20 percent of GDP is dependent on the Baumholder military base in the region where parts of the 1st Infantry Division are now stationed.
"A closure could have enormous ramifications for us," Werner Knauth, press spokesman for the district, told DW-WORLD.
Please stay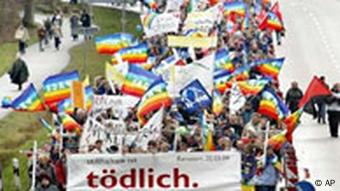 Demonstration at Ramstein Air Base on March 20, 2004 against the war in Iraq.
Despite substantial anger among the German populace at US actions in Iraq (photo), and protests at some bases, many Germans see the economic considerations outweighing moral ones when it comes to a continuing presence of American troops in the neighborhood. Officials have begun doing what they can to convince the Americans to stay.
"We're now in negotiations with the Americans, trying to make it appealing for them to stay at their current sites," said Eric Schaefer, press spokesman for the Interior Ministry of Rhineland-Palatinate, where several bases including Baumholder are located. "We're talking to the US about not just closing the base, but using it differently, perhaps as a training ground."
In fact, authorities are used to talking about conversion, since a substantial cut-back in US force strength has already taken place since the end of the Cold War. In the mid 1990s, cities such as Frankfurt and Berlin said good-bye to many of their US troops who were no longer needed after the Berlin Wall fell and the Soviet threat came to an end.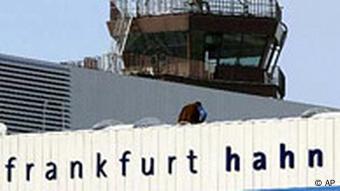 There have been a few conversion success stories, such as the Hahn air base which closed in 1995. The base and the region got a breath of new life when the popular low-cost airline RyanAir discovered it and made it its hub in central Germany.
State officials in Rhineland-Palatinate can be thankful that two of the largest bases in the region, the Ramstein and Spangdahlem air bases, are not threatened with closure, even though there could be some troop reduction. The two make up the largest US military communities outside the United States, and are home to 40,000 soldiers and their dependents. A study by the University of Trier showed that the two bases alone contributed about €1.4 billion ($1.7 billion) to the local economy in 2001 and support about 27,000 jobs in the region.
Even though many troops there will stay, local businesses have already begun gearing up for a loss.
"Things will change," Volker Menzel, president of the Japanese Garden in Kaiserslautern, a popular destination for military families near Ramstein, told DW-WORLD. "The army is such a significant factor here, the strength of the entire economy will diminish."