Attention in the West has landed on Pakistan's newly empowered military courts and what, if any, political sway the United States carries to press for the pursuit of anti-Indian terrorist groups that have long found safe haven in the country.
As the US continues to bolster relations with India, the Obama administration faces pressure to heighten its push for a Pakistani crackdown on groups like Lashkar-e-Taiba (LeT), which is believed to have carried out the 2008 attacks in Mumbai that killed 166 people, Jaish-e-Mohammed (JeM), which has focused attacks on the Jammu and Kashmir state, and the Haqqani Network, which bombed the Indian Embassy in Afghanistan in 2008 killing 58 people.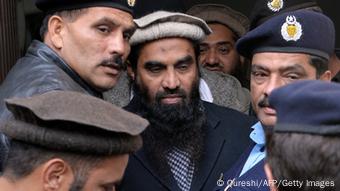 Zaki-ur-Rehman Lakhvi was one of the Mumbai masterminds
Experts contacted by DW are hopeful that the launch of Pakistan's military tribunals will bring about a more widespread hunt for anti-Indian terrorist groups that traditionally operate with impunity in the country - potentially opening the door for more in-depth peace talks with India.
"It would be a marvelous and quite productive step forward if the Pakistanis were, in a very visible way, to be seen as serious about cracking down on - and then following up in judicial proceedings - those groups, including the LeT," said Robert Hathaway, who worked for 12 years at the US House Foreign Affairs Committee and is now the director of the Asia program at the Woodrow Wilson think tank in Washington D.C.
New national interests
"One hopes that the Pakistanis are in the midst of recalculating their national interests in a way that will lead to the conclusion that they really cannot distinguish any further between good terrorists and bad terrorists," said Hathaway.
These groups have traditionally been protected by Pakistan, but US Secretary of State John Kerry said he reached a "strong consensus" with Pakistani leaders during a recent visit to Islamabad. Kerry said they agreed to combat "all forms of terrorism," indicating that groups such as Let, JeM, and the Haqqani Network would be subject to a similar military crackdown by the Pakistani military that up until now has largely focused on Taliban factions in the country, known as Tehrik-i-Taliban Pakistan (TTP).
In a statement to DW, a US State Department spokesperson said the United States backs the use of Pakistan's courts to fairly bring terrorists to justice, and continues to push Pakistan to go after the LeT.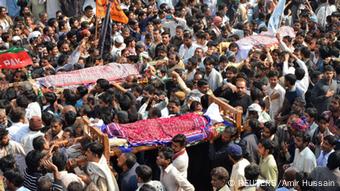 Pakistan is trying to crack down on terrorists
"It is…no secret that the United States has urged Pakistan to do more on counterterrorism, including not just TTP but groups like the Haqqani Network and LeT," said the State Department spokesperson. "We are making every effort to help Pakistan eliminate the safe havens that allow the syndicate of groups - al Qaeda, the Haqqani Network, Lashkar-e Tayyiba and others to operate."
Taking on the terrorists
But Bruce Riedel, who served for 30 years in the Central Intelligence Agency and has been a senior advisor to the last four US presidents on South Asia and Middle Eastern affairs, told DW that he doesn't expect Pakistan's military courts to take on LeT. Riedel added that any concerted US push for Pakistan to do so will likely be ineffective, saying that LeT enjoys the protection of the country's military. "The US has put lots of pressure on Pakistan to no avail," said Riedel in an e-mail.
Farahnaz Ispahani, who served as a member of Pakistan's parliament from 2008-2012, said there hasn't been any movement so far by Pakistan to go after anti-Indian terrorist groups like the Jamaat-ud-Dawa (JUD), the charitable organization that operates openly in Pakistan as a front for LeT. "So far there is no sign that jihadi groups nurtured and favored by Pakistan's Intelligence services, including the Afghan Taliban, the Haqqani Network and JUD, are yet to be targeted," said Ispahani. "The US has called on Pakistan to target terrorists groups without discrimination for years. But Washington has never…been able to find levers of pressure that can change Pakistan's long standing strategic policies."
Key questions loom as to how the US can effectively pressure Pakistan to use the courts to target these groups that have attacked India both domestically and abroad.
Turning to India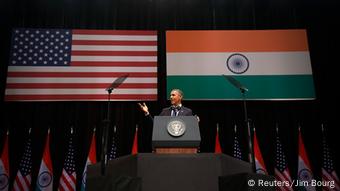 Back on track?
"In the past the US avoided cooperating with India against Pakistan-based terrorist groups to avoid raising Pakistani distrust," said Lisa Curtis, who has worked for the Senate Foreign Relations Committee, the State Department, and the CIA, and is now with The Heritage Foundation think tank. "As Washington became increasingly frustrated with Pakistan's lack of action against the LeT and Haqqani Network, however, US officials dropped their reluctance to work closely with India against these terrorist targets."
The US has been attempting to influence Pakistan to pursue terrorist groups more aggressively for years, using a combination of financial incentives and threats, with few positive results. As the US has begun to scale down its military presence in neighboring Afghanistan, however, relations with Pakistan have improved in recent months.
Dr. Joshua White, a former senior advisor on Asian and Pacific Security Affairs at the Pentagon, points out that while the US system of carrots and sticks has not worked particularly well in the past, certain options are still open. "Threatening Pakistan - or any country, for that matter - is rarely effective," said White, who works now for The Stimson Center global security think tank. "That is not to say that the US Congress will not in the future condition certain assistance on whether Pakistan takes steps to limit the activities of groups such as Lashkar-e-Taiba."
But former CIA employee Riedel emphasizes that Pakistan is not solely beholden to the US for outside financial assistance and trade. They can also turn easily to China, Saudi Arabia and the United Arab Emirates for support, said Riedel, effectively weakening any possible conditions the US might place on future assistance.