The US Treasury on Tuesday slapped sanctions on 16 Chinese and Russian companies and individuals linked to North Korea's nuclear weapons programs and energy trade.
Treasury Secretary Steven Mnuchin said the penalties would further isolate Pyongyang amid heightened tensions over its recent ballistic missile development and test launches.
Read more: Where did North Korea get its missile technology?
"It is unacceptable for individuals and companies in China, Russia, and elsewhere to enable North Korea to generate income used to develop weapons of mass destruction and destabilize the region," Mnuchin said in a statement. "We are taking actions consistent with UN sanctions to show that there are consequences for defying sanctions and providing support to North Korea, and to deter this activity in the future."
A variety of charges
The 16 sanctioned entities were accused by the US of doing business with previously sanctioned companies, working with North's energy sector, helping place North Korean workers abroad or acting as a conduit on behalf of the reclusive state to the international financial system.
The 16 entities include six Chinese firms, two Singapore-based organizations involved in selling oil to North Korea, four Russian nationals and a Namibia-based construction companies.
This most recent round of US sanctions coincide with the UN Security Council's resolution earlier this month to ban $1 billion (850 million euros) worth of exports to the reclusive state. The council unanimously voted in favor of slapping tough sanctions on the North after a bitter war of words with Washington over its most recent missile tests and capability to strike the US mainland.
However, while those sanctions were unanimously approved by all permanent council members, Moscow on Tuesday sharply rebuked the latest US penalties against its own entities and warned it would consider retaliation.
In view of the sanctions, Russia's Deputy Foreign Minister Sergei Ryabkov said that "we are starting to work on retaliatory measures, which are unavoidable in this situation," adding that "US statements about a desire to stabilize bilateral ties sound particularly unconvincing."
The sanctions block any assets the affected companies or individuals may have in the US and bars any American from doing business with them.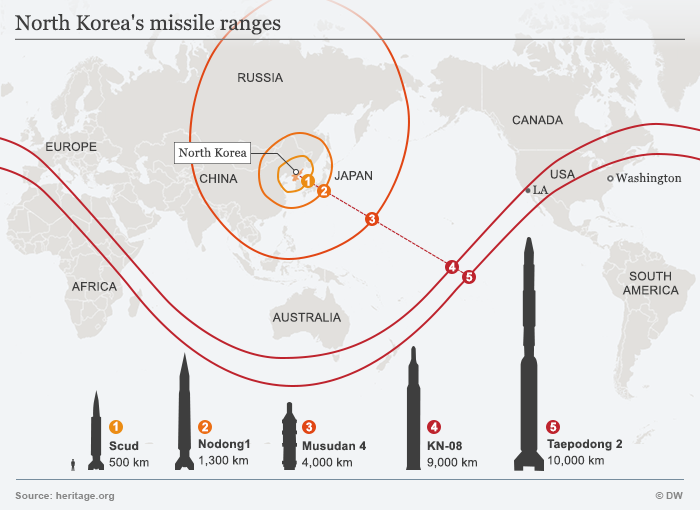 Tillerson praises North Korea's restraint
The latest round of sanctions came just as US Secretary of State Rex Tillerson welcomed North Korea's recent restraint in the wake of the UN Security Council resolution.
"I'm pleased to see that the regime in Pyongyang has certainly demonstrated some level of restraint that we've not seen in the past," Tillerson said. "We hope that this is the beginning of this signal that we've been looking for, that they are ready to restrain their level of tensions, they're ready to restrain their provocative acts, and that perhaps we are seeing our pathway to some time in the near future to having some dialogue."
Read more: What is China's role in the North Korean crisis?
Reports: North Korean shipment to Syria's' chemical weapons agency intercepted
Earlier on Tuesday, news agency Reuters revealed that it had seen confidential UN documents detailing the interception of North Korean shipments intended for the Syrian government chemical arms agency.
"The panel is investigating reported prohibited chemical, ballistic missile and conventional arms cooperation between Syria and the DPRK (North Korea)," experts wrote in the 37-page report.
The documents, which were reportedly submitted to the UN Security Council earlier this month, gave no mention on where and when the shipments were halted or what they contained.
Read more: Syria civil war timeline: A summary of critical events
However, a "member state informed the panel that it had reasons to believe that the goods were part of a KOMID contract with Syria," the report read.
KOMID refers to the Korea Mining Development Trading Corporation, described to be Pyongyang's most important arms dealer and an exporter of weapons-related equipment. It was blacklisted by the Security Council in 2009.
The consignees, meanwhile, were identified as front for Syria's Scientific Studies and Research Centre (SSRC), "a Syrian entity identified by the Panel as cooperating with KOMID in previous prohibited item transfers," the UN report said. The SSRC has been responsible for overseeing Syria's chemical weapons program since the 1970s.
dm/kl (Reuters, AP, AFP, dpa)