The executive order sets out to fulfill one of Trump's key campaign promises, to build a wall along the 3,110-kilometer (1,933-mile) border between the US and its southern neighbor, Mexico.
"We've been talking about this right from the beginning," Trump said during a brief signing ceremony at the Department of Homeland Security on Wednesday.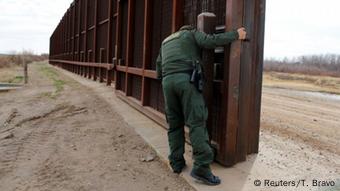 A gate on the border fence in El Paso, Texas
The aim of the wall is to keep out immigrants from Mexico who Trump referred to in less-than flattering-terms during his campaign for the presidency in June 2015. "When Mexico sends its people, they're not sending their best," he said. "They're sending people that have lots of problems... They're bringing drugs. They're bringing crime. They're rapists."
"I will build a great, great wall on our southern border, and I will have Mexico pay for that wall. Mark my words," he said.
To take his project forward, the president may rely on a 2006 law that authorized fencing along the border. That bill led to the construction of more than a thousand kilometers of various kinds of barriers designed to block both vehicles and pedestrians.
The border at San Ysidro, California
An expensive project
Ahead of the signing on Wednesday, Trump said in a television interview: "There will be a payment; it will be in a form, perhaps a complicated form."
In February last year, Trump told MSNBC he could finish the wall for $8 billion (7.4 billion euros) as a barrier already existed along parts of the border. "Of the 2,000, we don't need 2,000, we need 1,000 because we have natural barriers," Trump said. "And I'm taking it price per square foot and a price per square, you know, per mile," he said.
However, others have put the cost far higher. Deputy director of the US Immigration Policy Program at the nonpartisan Migration Policy Institute, Marc Rosenblum, was quoted in a report from January last year as estimating that the existing border fence had cost about $2.4 billion. Building the rest of it would cost between $15 billion and $25 billion, with an annual maintenance cost of $700 million.
While Trump has insisted the border barrier is to be a wall, his spokesman Sean Spicer spoke on Wednesday of a "large physical barrier."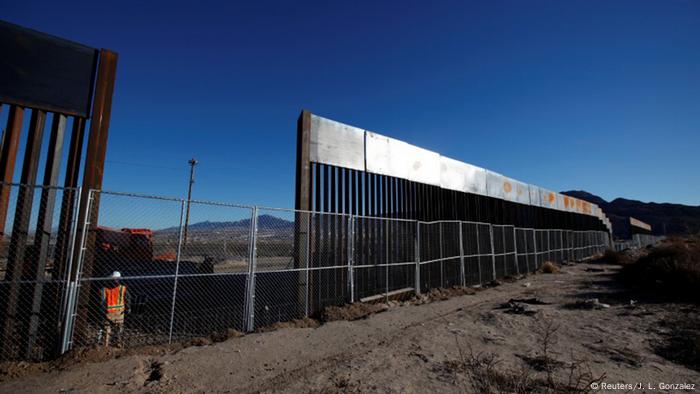 A newly-built section of the border wall opposite the Mexican city of Ciudad Juarez
Who pays the bill?
During his campaign, Trump said that Mexico would pay for the wall. "It's realistic if you know something about the art of negotiating. If you have a bunch of clowns negotiating, it's not realistic," he said.
"We will build a great wall along the Southern border and Mexico will pay for the wall. One hundred percent. They don't know it yet but they're going to pay for it," Trump said after meeting Mexican President Enrique Pena Nieto in September last year.
In January, Trump said the wall would be funded through a Congressionally-approved spending bill with Mexico eventually reimbursing the US. The Mexican government has insisted it will not pay for the wall.
Trump is due to meet with the Mexican president at the White House next week.
jm/msh (Reuters, AP)