The US State Department on Thursday asked Russia to close two annex buildings in Washington, D.C. and New York City, in addition to its San Francisco consulate.
"We believe this action was unwarranted and detrimental to the overall relationship between our countries," State Department spokeswoman Heather Nauert said in a statement on Thursday, referring to Moscow's decision to expel US diplomatic staff in Russia last month.
Read more: Between Trump and Putin: What's the next move?
The State Department said the closures need to be completed by September 2. Russian Ambassador Anatoly Antonov, who arrived in the US shortly after the measures were announced, warned against "hysterical impulses."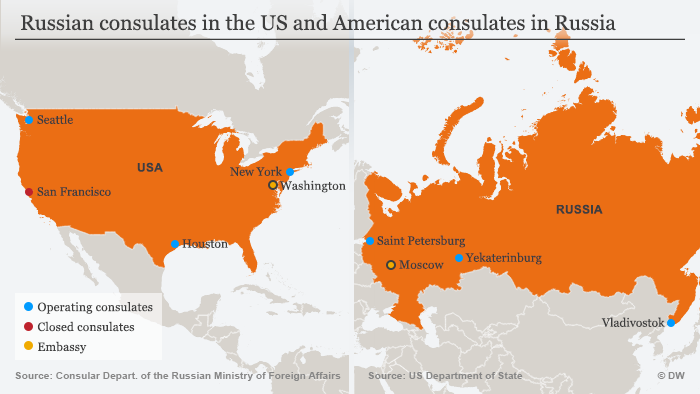 Americans 'keep on breakdancing'
Russian Foreign Minister Sergey Lavrov expressed "regret at the escalation of tensions" during a phone call with his US counterpart Rex Tillerson, according to the Russian Foreign Ministry.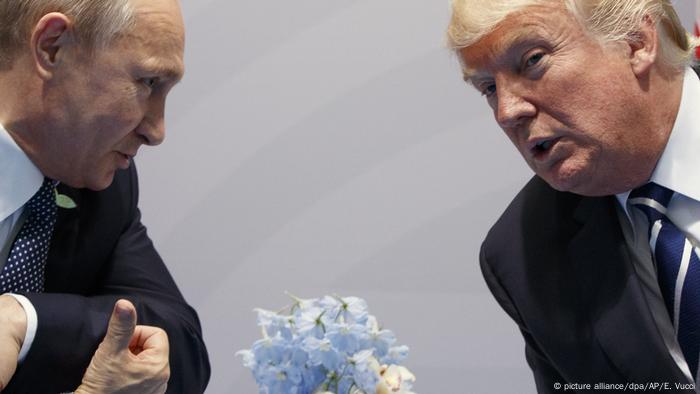 Donald Trump and Vladimir Putin: the 'spirit of parity?'
"Moscow will closely study the new measures announced by the Americans, after which our reaction will be conveyed," it said in a statement.
In separate remarks to international relations students in Moscow, Lavrov said that Russia wanted to return to a normal diplomatic "atmosphere" with the US. However, Washington's current policy is not taking Russian interests into account, he added.
"As you know, it takes two to tango," he was quoted by Russia's NTV as saying.
"Right now, our American partners keep on breakdancing on their own."
Last month, the Kremlin ordered the US to slash its diplomatic work-force in Russia by nearly two-thirds to 455, the same figure that Moscow has in the US. This followed a vote by the US Congress to ramp up sanctions against Russia for its alleged interference in the 2016 presidential elections.
The US embassy in Moscow responded by a dramatic reduction in its visa services.
'Spirit of parity'
The State Department said Thursday's decision was made "in the spirit of parity invoked by the Russians."
Both the US and Russia have three consulates in each other's respective countries.
"The United States hopes that, having moved toward the Russian Federation's desire for parity, we can avoid further retaliatory actions by both sides and move forward to achieve the stated goal of both of our presidents," the State Department said.
The US has told Russia that it would not expel any diplomats, news agency Associated Press reported, quoting an anonymous senior American official.
Russian diplomats at three affected facilities can be reassigned to other Russian consulates or posts in the United States, it said.
The Russian consulate in San Francisco is responsible for the West Coast, plus several additional states in the western US. The other three Russian consulates are in New York, Seattle and Houston.
dj,ls,ap/ng (Reuters, AP, dpa)