Green Party-affiliated voters, spearheaded by leader Jill Stein (photo above), have dropped their efforts to have votes recounted in Pennsylvania, one of the key Rust Belt states claimed by President-elect Donald Trump in last month's presidential election.
In a court filing submitted Saturday, the voters who officially filed the case said they couldn't afford the $1-million (937,000-euro) bond required by the court.
Stein took to Twitter to criticize the process, calling it "odd" that Americans had to "jump through bureaucratic hoops" in order to trust the outcome of their election.
The Green Party's former presidential candidate plans to hold a rally in front of Trump Tower in New York on Monday, where she'll formally address the Pennsylvania recount.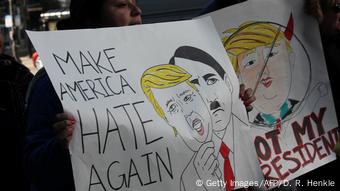 Trump's victory has caused concern for members of the political left
Fight drags on
Some of Stein's supporters are still pursuing recounts in various districts across Pennsylvania, "The Washington Post" reported.
The bid in Pennsylvania was part of a larger effort by Stein and other members of the political left to challenge the results of the November 8 election, which was tainted by accusations of voter fraud and Russian hacking. Stein's team has vaguely cited "anomalies" as the basis for requesting the recount, and has raised nearly $7 million so far, according to her website.
Stein is also pursuing recounts in Michigan and Wisconsin, two key states narrowly won by Trump. In all three states, the Green Party has come up against efforts by Trump's backers to halt the recount, with lawyers representing the president-elect saying there's no evidence justifying the request.
Trump's margin of victory in Pennsylvania was a scant 49,000 out of 6 million votes cast. Nonetheless, state and county officials have said they didn't expect the final result of the election to change.
blc/cmk (AFP, dpa, Washington Post)