Beijing's military buildup in the South China Sea calls into question its broader goals in the region, the US secretary of defense told a high-profile international security forum on Saturday.
Jim Mattis said Beijing had recently deployed hardware including anti-ship missiles, surface-to-air missiles and electronic jammers as well as landed bomber aircraft in contested areas.
"Despite China's claims to the contrary, the placement of these weapon systems is tied directly to military use for the purposes of intimidation and coercion," Mattis told the Shangri-La Dialogue in Singapore.
He said the US remained committed to ensuring free and open transit in the region, a hub for shipping and natural resources beset by overlapping claims from China and several of its neighbors including Vietnam and the Philippines.
Chinese Lieutenant General He Lei responded angrily, telling the summit that "irresponsible comments from other nations cannot be accepted" and that Chinese actions in the region were "for the sake of defending ourselves."
China believes islands, islets and other maritime features in the South China Sea are its sovereign territory and that it is within its rights to build defenses on them. Neighboring nations fear China will use the facilities to reach further militarily and potentially restrict navigation.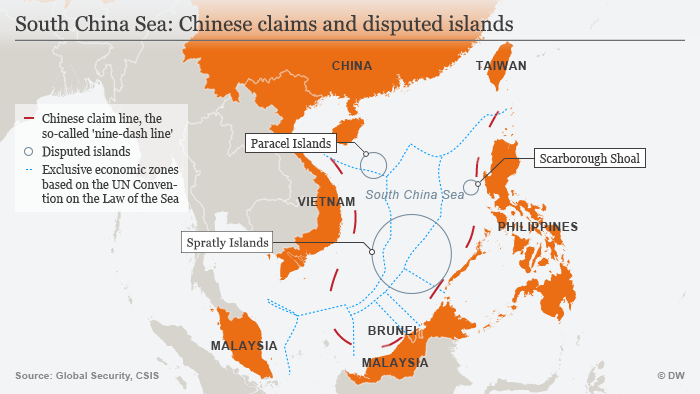 Weeks of heightened tensions
Mattis' remarks follow a rocky past few weeks in US-China relations as the administration of US President Donald Trump seeks to balance cooperation with China on issues like North Korea with dealing with Beijing's activities in the disputed sea.
Last month the US withdrew an invitation for the Chinese navy to take part in a training excercise called Rim of the Pacific because the Pentagon said it had strong evidence that China had deployed weapons systems on disputed islands.
On Sunday, two US warships sailed close to the Paracel Islands in a long-planned operation designed to challenge China's claims. China protested the move.
Quick pivot to cooperation
Mattis also said the United States welcomed cooperation with China and said he had accepted Beijing's invitation to visit there soon.
He said the US "will continue to pursue a constructive, results-oriented relationship with China, cooperation when possible, and competing vigorously where we must."
China has not sent high-level officials to the Shangri-La conference. An editorial in the state-run Global Times newspaper said the tension in the South China Sea was "due to the US continuing to increase its military presence in the region, forcing China to naturally upgrade its defensive weapons on the islands."
"This, in turn, gives the US more excuses to exert military pressure, causing regional tensions to spiral," the Global Times said.
Modi urges unity
Indian Prime Minister Narendra Modi, the keynote speaker, urged countries across the region to unite against protectionism and territorial tensions, for the prosperity of all.
Referring to maritime issues, including those in the South China Sea, Modi said his country did not see the region as a club of limited members.
"India stands for a free, open, inclusive Indo-Pacific region, which embraces us all in a common pursuit of progress and prosperity," he said, using the term Indo-Pacific, which has become increasingly used by diplomats in the US, Australia, India and Japan to refer to the region instead of Asia-Pacific, which was seen as placing China too firmly at the center.
Each evening at 1830 UTC, DW's editors send out a selection of the day's hard news and quality feature journalism. You can sign up to receive it directly here.
se/sms (AFP, AP, Reuters, dpa)